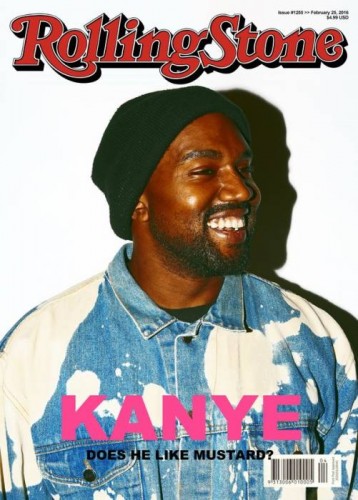 Kanye has been real live on Twitter lately.
Yesterday, he took to his account to post a faux cover of his upcoming Rolling Stone cover feature with a photo that was taken by Tyler, The Creator. His name was capitalized & bolded in the color pink with the sub-title reading "Does He Like Mustard?" He posted the photo to Twitter with the caption, "ROLLING STONE SHOT BY TYLER THE CREATOR".
Once the publication got word that Yeezy posted a faux cover with their name on it, they denied it's credibility and responded to it via Twitter:
While we love Kanye, and have many mustard-related questions for him, this is not an actual cover of Rolling Stone
Once Tyler found out Ye posted his photo & received such great feedback from fans, he commented on his work as well:
DAMN FIRST TIME I SEEN PEOPLE STOKED ON ONE OF THEIR COVERS EVER.. FUCK I WAS SO STOKED HAHAHA NO WORRIES ILL SHOOT A COVER ONE DAY
WAVES is still set for release February 11th. Stay tuned for the OFFICIAL Rolling Stone cover featuring Kanye when it drops.
© 2016, Niyah Nel. All rights reserved.