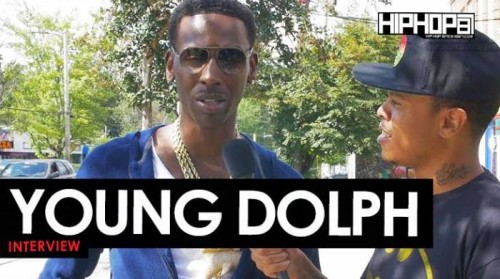 Paper Route Empire captain Young Dolph has grown tremendously as an artist and as a brand since the time we met in 2012. Today in the year 2016, Young Dolph is one of the biggest rap artist in the industry and he is taking his talents to new levels. During his "Royalty" tour stop in Atlanta on August 30th, HHS1987's Terrell Thomas caught up with Young Dolph at a special Meet and Greet hosted by Muddy Waters Group at Wish a well known urban footwear store in Atlanta to speak on an array of topics.
Not only is Young Dolph currently on the road touring, he also recently released one of his most anticipated projects to date,  'Rich Crack Baby'. We spoke to Young Dolph on the artwork, features and theme of his new project 'Rich Crack Baby'. Young Dolph broke down the artwork and he highlighted how he changed the narrative of what a crack baby is. With people almost always assuming a crack baby is destine to not succeed in life, Dolph spoke on his success and how finding wealth his helped him not only change his life but also the lives of others.
We also took a moment to speak with Young Dolph on his "Royalty" tour, possibly adding dates to the tour, his "New Jack City" themed 'Rich Crack Baby' listening event, a new project before the end of 2016 and his move to the world of fashion teaming up with popular urban brand Pink Dolphin. Young Dolph give us some exclusive insight on what's next for him and the Paper Route Empire crew and he hinted at future fashion and sneaker collaborations.
The interview was conducted by Terrell Thomas (Eldorado). The interview was shot by Director AMart. Thanks to the Muddy Waters Group for conducted a dope Meet and Greet as well as coordinating Young Dolph's "Royalty" show at Atlanta's Centerstage.
Follow on Twitter/Instagram:
@YoungDolph
@Eldorado2452
@HipHopSince1987
@MuddyWatersGroup
@Director_AMartin
© 2016, Eldorado2452. All rights reserved.