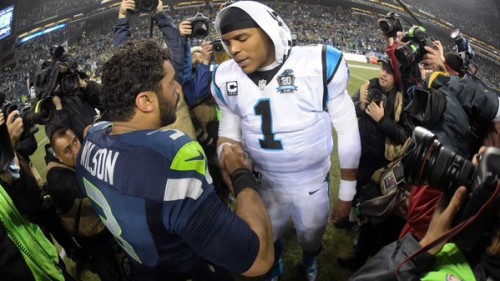 Are you ready for some football! After the Arizona Cardinals and New England Patriots victories last night, two of the four teams set to play in the NFL's AFC and NFC championship games are now known and we will find out their opponents in the next couple of hours.
In the first game, Cam Newton and the Carolina Panthers face Russell Wilson and the Seattle Seahawks, a battle of two black quarterbacks. Look for Cam Newton to be the Panthers MVP today!  Cam will pass for over 260 yards and rush for over 70 yards with 3 touchdowns total. The Panthers will need to get their passing game going if they look to win today. In previous match ups, the defenses have controlled the game, Cam will need to control the game for the Panthers to win today.
For Seattle, Russell Wilson had been one of the best quarterbacks in the NFL this season and after losing Super Bowl 49 in the last minute of the game, Wilson and the Seahawks are on a mission to return to the big game. Look for Russell Wilson to pass for over 250 yards with 2 touchdowns. Marshawn Lynch will play today and he could be the difference maker today. Which ever defense wants this game more, that game will win the game. I do believe the winner of this game will represent the NFC in Super Bowl 50.
In the 4:40 game, the Denver Broncos will host the Pittsburgh Steelers. Broncos QB Peyton Manning is looking to end his career with one more Super Bowl victory. The Steelers come into this game with several key injuries and I believe that will be the reason they don't advance. Look for the Broncos to come out running the ball. C.J. Anderson and the Broncos backs with rush for a total of 150 yards. Peyton will toss two touchdown passes one late to seal the game. The Steelers offense will struggle without wide receiver Antonio Brown and won't be able to score enough points to win today.
Seahawks 17  Panthers 24
Steelers 13  Broncos 30
© 2016, Eldorado2452. All rights reserved.