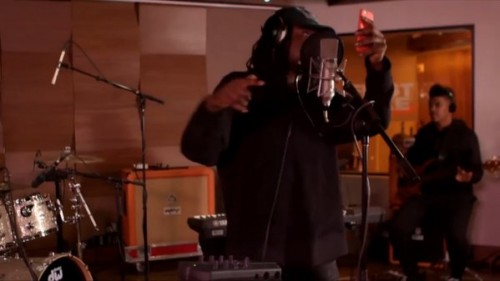 First Take, ESPN2's morning debate show featuring debaters Skip Bayless and Stephen A. Smith with host Molly Qerim, will premiere a new opening theme song today, January 7, created exclusively for the show entitled "Every Word Great" by Grammy-nominated recording artist Wale.
I must say I'm pleased @Wale, @produceramadeus & the crew. https://t.co/XLLowiCzBK

— Stephen A Smith (@stephenasmith) January 7, 2016
Wale, who created the show's previous opening theme song in 2013, worked closely with First Take's producers to develop custom lyrics that complement the show's goal of informed, entertaining debate.
Looks like @wale & @produceramadeus got another hit on their hands. https://t.co/R4fyHCDXGc

— First Take (@FirstTake) January 7, 2016
"Being asked to write the new theme song to First Take is a big deal to me being such a big sports fan and former college athlete," Wale says of the experience.
"I was honored when they asked me to write the current one, and jumped at the opportunity when they asked if I'd write the new one. I grew up on ESPN and now I'm writing their theme songs? Man, that's what this whole EveryBlueMoon movement is about. Plus, Skip, Molly and Stephen A. are family."
Kevin Wilson, ESPN music director, added, "Wale's theme captures the attitude of the show while giving it an edge and a modern vibe that sets it apart from other sports-based theme songs."
In addition to serving as a new theme song, the new show opening reflects the July addition of Molly Qerim as host of the show. "We wanted to incorporate Molly into the open, and since the show has recently been evolving and ratings are booming, it couldn't come at a better time. Wale understood our mission and really took it seriously to create version 2.0," explained First Take's coordinating producer Antoine Lewis.
Watch the new opening here, and tune-in to First Take on ESPN2 at 10 a.m. ET to watch the full open below.
© 2016, Eldorado2452. All rights reserved.