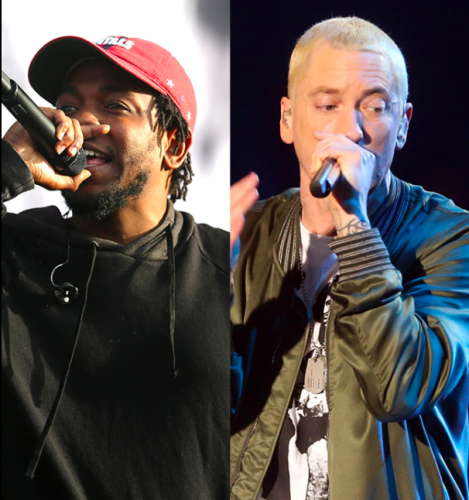 Eminem has gone as far as calling Kendrick Lamar's debut album a "masterpiece." So it's no surprise that he's a huge fan of his. But it looks as though the veteran had to test the young buck before giving him the badge of honor. In Ed Sheehan's recent interview with The Zach Sang Show, the singer shared a story he heard from Rick Rubin. As you know, Rubin produced for Eminem as well. Rubin recalled the first studio session Eminem and Kendrick had – for their collaborative song "Love Game" on The Marshall Mathers LP 2.
"I heard a very cool story about Eminem and Kendrick Lamar. Eminem heard that Kendrick Lamar was the best rapper and he invited him to the studio to get him on a song. He arrived and Kendrick came with all his mates and Eminem said, 'I just want you in the studio, just you on your own. And then my engineer is gonna come in and then record you doing it. But your mates aren't allowed in.' Eminem said that he did it to test Kendrick because he thought he had a ghostwriter. He then realized that he didn't, and then claimed he was the best, which is kinda cool I think."
© 2017, MariaMyraine. All rights reserved.