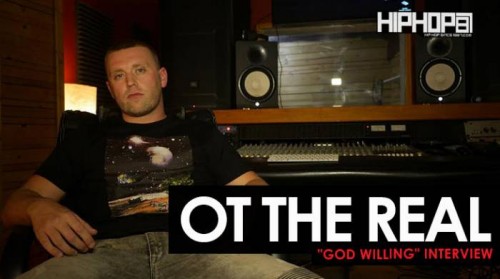 In 2017, there are a lot of artists that are great at making music but don't have the most intricate bars. One artist that makes it his mission to have both is OT The Real. OT The Real is originally from the Boston area but after being on the run, he moved to Philly and has been living here for many years and considers it his home.
Anyone that has ever listened to his music will quickly be impressed with his lyrical bars. This year OT has been building his brand and making his mark everywhere he goes. Recently, OT The Real released his new project "God Willing". The project is full of intricate bars over dope beats. Plus, OT The Real reached out to some heavy hitters for features.
HipHopSince1987's own Rick Dange recently sat down with OT The Real to discuss his new project "God Willing", aswell as how OT started his career and much more! Before ending the interview, OT The Real spit a crazy freestyle too! Checkout this exclusive HipHopSince1987 interview with OT The Real NOW!! And make sure you download "God Willing" if you haven't already!!
This interview was conducted, shot, and edited by Rick Dange.
Follow Us on Twitter/Instagram at:
@OT_TheReal1/@OT_TheReal
@HipHopSince1987
@RickDange
© 2017, RickDange. All rights reserved.