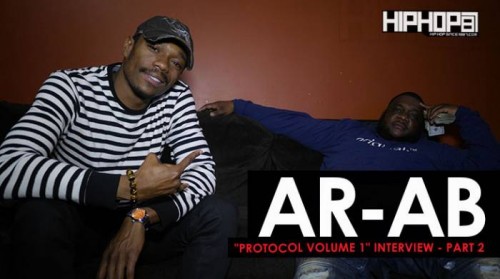 Ar-Ab recently dropped his new project "Protocol Volume 1". The project received great praises and quickly reached 1 million streams. In honor of the project doing 1 million streams, Ar-Ab released another new project, "Protocol Volume 2". This project is heating up the streets and alot of fans are saying this is some of Ar-Ab's best music.
In part 2 of our "Protocol" interview, Ar-Ab sits down with HHS1987's own E-Money to discuss a bunch of topics. Ar-Ab says that all his past rap beefs are officially squashed. He even speaks on the rumor that there is a new record coming out with himself and an artist that he had past beef with. Ab says that the picture that the public paints of him as a bad guy is totally wrong and the opposite of who he really is, especially to his team. Ab goes on to talk about the importance of empowering his team and making sure that they are all in a good position in life.
Ar-Ab says he slowed down looking for new artist to add to his team because they turn Hollywood as soon as he gets them a buzz. He says that the next artist that he's pumping out of his camp is No Brakes Bras, and speaks on him being on his current "Protocol" mixtape series. Staying on the topic of OBH, he breaks down Dark Lo's current health issues that he is having, as well as speaks on OBH member Sha Money's recent arrest. Ar-Ab also talks about the upcoming annual Goonie Gang cookout which will be held this summer.
Before ending the interview, Ab gives some classic words about artists having morals and standing for something. He says he hates when artist come to him complaining about other rappers, then he sees them in pictures with the same rapper days later.
Checkout this interview and Part 1 of this interview NOW!!
This interview was shot and edited by HHS1987's own Rick Dange.
Follow US on Twitter & Instagram at:
@AssaultRifleAB/@AR_AB_32
@HipHopSince1987
@EMoneyBeatz/@BeatEmUpMoney
@RickDange
© 2017, RickDange. All rights reserved.