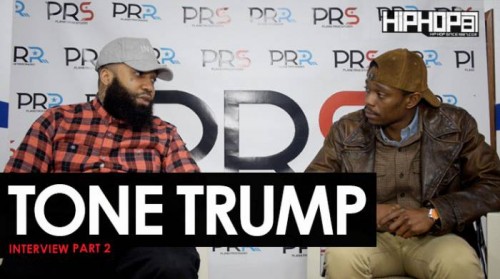 In part 2 of this exclusive interview, HipHopSince1987's E-Money sits down with West Philly's favorite hustler Tone Trump.
From being signed to Jeezy, to now being in the Oscar nominated film "Creed", Tone Trump is always on his grind and focused on elevating his career. In 2017, Tone Trump has linked up with Grammy award winning artist, CeeLo, and the 2 plan on dropping a joint album entitled "Ahkilo".
In this 2-part interview, Tone Trump talks about his numerous partnerships including his sneaker deal and his upcoming marijuana products. Tone Trump also talks about how he always salutes the winners in the game including Meek Mill. Trump breaks down how he became "Worldstar Tony" and speaks about Q, the creator of Worldstar the website. Tone Trump also talks his sock drive and how important it is to give back to the less fortunate. If you've ever seen a Tone Trump HipHopSince1987 interview then you know Trump is dropping plenty of jewels for the watchers! Checkout out this interview now and make sure you watch part 1 if you haven't already!
Follow Us on Twitter & Instagram at:
@ToneTrump
@HipHopSince1987
@EmonyBeatz/@BeatEmUpMoney
@RickDange
© 2017, RickDange. All rights reserved.