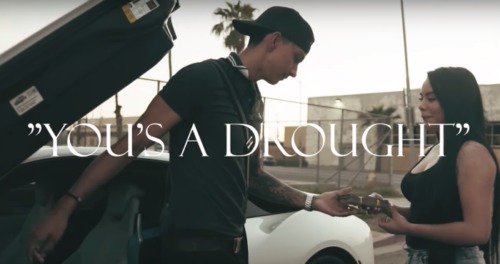 Some of you may be familiar with Atlanta's Kap G, he's been putting on for his city and representing heavy for the Mexican community. Today, he links up with a fellow Mexican rapper and Phoenix-based up and comer GeeX3 to deliver a cultural banger called, You's A Drought. When asked about what the song meant and how it came about Gee says: "It was a song to contribute to your haters, the ones that envy you, the ones that ain't really trynna help you succeed. It's a song for them and for the ones that like to turn up. I chose Kap G, cuz as a first feature I'd rather have some type of common interest with the artist. We both got that 'Mexican Drip' in us."
In the new visual, GeeX3 takes us on a ride through downtown Phoenix and shows us how he flexes from the street to the studio, to linking up with Kap to record this record. The song comes off of Gee's yet-to-be-titled project which will land early 2019.
Watch the video below or head over to geegotgreens.com to see it and more of his content.
© 2018, Oktane. All rights reserved.