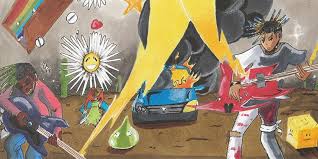 Rising star Juice WRLD drops off this melodic BANGER featuring Philly's own Lil Uzi Vert. Both flexing rockstar style vocals over a hypnotiq rnbass beat makes this a perfect summertime jam ! Uzi SNAPS on the second half of his verse tune in now !
Wasted (feat. Lil Uzi Vert) out now: http://smarturl.it/WastedJuiceWRLD
Subscribe to the official Juice WRLD channel for new music, updates and behind the scenes footage click here: http://bit.ly/Sub-to-JuiceWrld
Check out more Juice WRLD here: Twitter – https://twitter.com/JuiceWorlddd Insta – https://www.instagram.com/juicewrld999/
© 2018, Seth Barmash. All rights reserved.