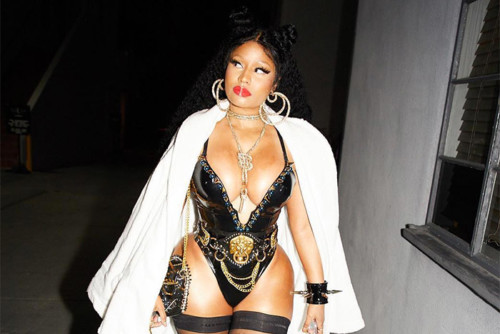 Nicki Minaj set Twitter ablaze after she sent out a few Tweets teasing what appears to be an upcoming world tour! In partnership with Citibank (for the US leg of the tour), the head Barbie in charge, asked her followers a simple question..
Do you have your money ready for tour?

— Chun-Li (@NICKIMINAJ) April 22, 2018
Her following Tweets made it clear that this will be a tour you don't want to miss out on. While an official announcement hasn't been made yet, expect one to drop soon. Before embarking on the tour, catch Nicki the season finale of SNL on May 19th – where she will perform both of her new singles, "Chun Li," and Barbie Tingz."
All ima say is this tour is 🦄😻🤭😲💦⬆️👏🏽👏🏽👏🏽🙏🏽🙌🏽👌🏽 and if u miss it, don't be mad at Chun. Be mad at YOU! Chun gave u ALLLL the time in the world. This album so 🙌🏽🙌🏽🙌🏽🙌🏽🙌🏽🙌🏽🙌🏽🙌🏽🙌🏽🙌🏽🙌🏽🙌🏽🙌🏽🙌🏽🙌🏽🙌🏽🙌🏽 AAAAHHHHHHHH!!!! I can't take it!

— Chun-Li (@NICKIMINAJ) April 22, 2018
US first. Then ALL AROUND THE WORLD. BUT THERE'S another surprise you won't know. Bwahaaahahaaaaaa. The ones at the tour will be elevated to Team Minaj ELITE. Yes, I'm leaning towards M&G's. Only cuz my babies been so patient. But pls don't hold me to it. Love, #ChunLi https://t.co/lrUVVL7o8t

— Chun-Li (@NICKIMINAJ) April 22, 2018
© 2018, MariaMyraine. All rights reserved.