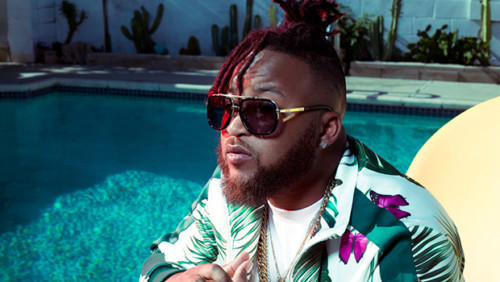 Mississippi native Sean2 Miles is turning heads with his music and his time is now. With the recent release of his new single "You Like It" and the success of his latest project 'Heartaches & Turn Up', Terrell Thomas recently caught up with Sean 2 Miles to find out just what the writer/ producer is all about.
1.) Your latest project was 'Heartaches & Turn Ups'. How did that project come
about?
Heartaches & Turnups came how it's sounds lol. Reflecting on Moments In my life where I had the relationships issues also same time turning up trying to mask them problems.
2.) Where does your name come from? Sean2 Miles
I'm the second, my grandfather wanted me called Sean2 and as unique as it sounds that's all I ever knew.
3.) I know that your from Farmhaven, Mississippi. What is the music scene like there? How did you fall in love with music there?
Yes I am from Farmhaven Mississippi. The music scene their consist of Mostly blues. I grew up listening to Tyrone Davis, Jonnny Taylor, BB King, Bobby Rush and etc being around my elders. There wasn't much to do there compared to a lot of cities so I fell in love with music by being in the marching band at Velma Jackson High School.
4.) Your new single "You Like It" is picking up stream! Talk to me about the creative process behind that record.
"You like it" is picking up! Thanks to manager Charve the Don at Concore Entertainment. The creative process started with my homie Track Savage. He sent the idea of the track over and Tha Hitbangaz made it a hit, after that I put my sauce on the production and lyrics. Within minutes "You Like It" was fresh out the oven
5.) Your career is taking off and you have working with some huge stars in the music industry. What was it like working with Snoop Dogg and Juicy J?
Yes I worked with quite a few people. Working with Snoop Dogg was a dream come true. Big Fave From Long Beach Play him a song I did on his artist Emission called "Tell me what you want" and Snoop put it on the LBC Movement Mixtape and did a video for it. To see a legend like Snoop Dogg knowing the lyrics to the song that I produced and put his validation behind this song was a great feeling. Snoop Dogg has a lot of people in Mississippi so we vibe instantly.
Working with Juicy J was cool. Grown-up off
Three Six Mafia and sitting there engineering for him learning his technique in booth was an incredible experience.
6.) As your career continues to grow, who are some artist you would like to work with?
Some of the artists I would like to work with are Anderson Paak, Bruno Mars, BJ the Chicago Kid, Rihanna, Kevin Gates and Kendrick Lamar
7.) To date, whats the biggest accomplishment in your career?
Today the biggest in my career landing top 20 in Brazil Charts with GSHYTT "The Vibe is Right" and having 3 records that went #1 in Japan on RiRi
8.) As we get closer to the end of the year, what are your plans as far as possibly releasing a new project or more music?
My plan is to drop another album before the year is out
9.) As a producer, what are your favorite tools and programs to use when your creating music?
My favorite and the only program I use is ProTools To create my music. After taking so many ProTools certification test I know the program in and out.
10.) Where do you see yourself and your career in 3 years?
I see myself having to voice in being able to help people with the power of music and for my career I see myself Successful but yet still striving for more success in three years.
Follow @eldorado2452 on Twitter and Instagram for all your music and entertainment news and exclusive interviews.
© 2018, Eldorado2452. All rights reserved.