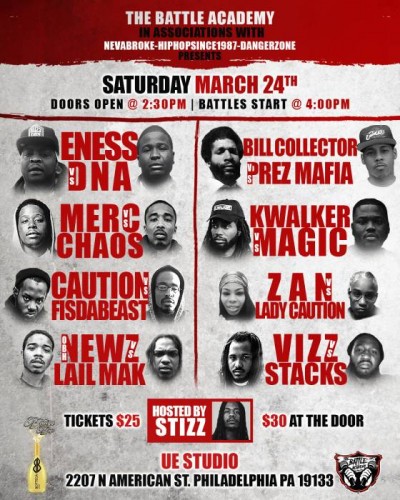 On Saturday March 24th, Philly's Number 1 Battle League, The Battle Academy Presents the HIGHLY Anticipated Rematch "E.Ness Vs. DNA" Live from UE Studio (2207 N. American Street, Phila. Pa 19133). The undercard battles for this event are:
"Bill Collector Vs. Prez Mafia"
"Merc Vs. Chaos"
"Caution Vs. Fis Da Beast"
"Magic Vs. K. Walker"
"Zan Vs. Lady Caution"
"Newz Vs. Lail Mak"
And "Vizz Vs. Stacks"
This event is hosted by Stizz and Special invited Guest to be announced!!
**Doors Open at 2:30pm, Battle begins at 4:00pm**
**NO CAMERAS WILL BE ALLOWED IN THE BUILDING!!!**
(Copy & Paste link below into your browser if clicking doesn't work)
https://www.eventbrite.com/e/the-battle-academy-presents-eness-vs-dna-tickets-43098196867?utm-medium=discovery&utm-campaign=social&utm-content=attendeeshare&aff=escb&utm-source=cp&utm-term=listing
© 2018, RickDange. All rights reserved.