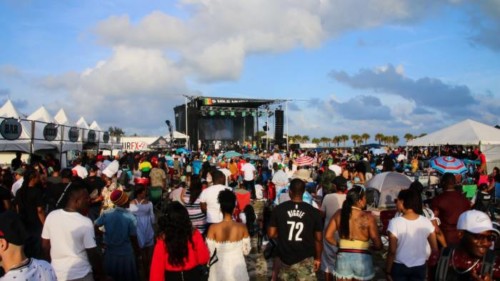 Take me back to Miami!
Last weekend, I took a break from the New York City cold, and travelled down to Miami for the return of 9 Mile Music Festival. Last year, the music festival went on hiatus – only to return this year going full steam. The annual festival was founded in 1993 by Cedilla Booker Marley, and celebrates the rich tradition and history of Reggae, Dancehall, and inclusiveness. Once again, the festival took place at the idyllic Historic Virginia Key Beach Park in Miami.
15,000 attendees filled the secluded island, enjoying the family-friendly event boasting an array of traditional Jamaican foods, and a variety of experiences. For me, this was my second 9 Mile experience, and it seems to only get better. Festival gates opened early in the day, allowing festival goers to roam the beach, visit all the local vendors, fill their bellies with food and drinks, as DJ's Jah Stream, War Beezy, Mello D, Ricky D, and Yard Lee, warmed us up. Hosts, I Am Pretty Vee, and Lance-O, also kept us entertained.
As the sun began to set, the 9 Mile Massive started to migrate towards the stage as the show commenced. Amazing performances were given by Julian Marley, Everton Blender, Shabba Ranks, Sizzla, Busy Signal, Capleton, Spice, and Mighty Crown. Always recognizing the importance of Hip Hop across all cultures, 9 Mile continued their tradition of having Hip Hop acts bless their festival stage – this year, Nas brought Queensbridge to Miami. Closing out the festival, the iconic, veteran rapper performed a medley of some of his biggest hits – including, NY State of Mind (pt. II), The World is Yours, Adam & Eve, and more. He also didn't hold back on surprise guests! Damian Marley joined Nas on stage where he performed "Welcome to Jamrock," which had the crowd lighting up their spliffs as they recited the lyrics word for word. The biggest surprise of the night came towards the end Nas' set as another New Yorker – who isn't foreign to Miami – touched the stage.
When the opening of Nas' "Hate Me Now" blasted through the speakers, fans were in for another treat as Diddy entered the stage! Taking us back to '99, the dynamic duo put on one helluva performance. At the end of their performance, Diddy had some words for Nas.
Overall, 9 Mile Music Festival – which also gives back to the community, as festival goers are encouraged to donate canned goods and other items to help the underserved – is always an immersive, cultural experience.
Photo Cred: @yea_im_mike
© 2019, MariaMyraine. All rights reserved.