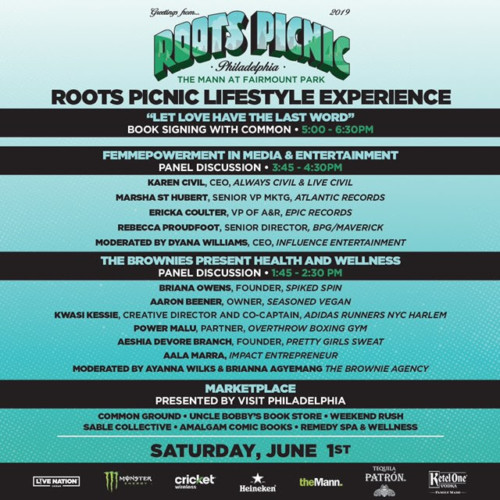 The 12th Annual Roots Picnic in Philadelphia has expanded its offerings for this year's festival and will include a Lifestyle Tent featuring panels, a book signing event and vendors from top Philadelphia businesses as well as a special activation from VisitPhilly.
Headlining the panels this year will be a special The Brownies Presents Health & Wellness panel featuring Founder of Spiked Spin, Briana Owens, Owner of Seasoned Vegan, Aaron Beener, celebrity stylist, creative director and co-captain of adidas Runners NYC Harlem, Kwasi Kessie, Partner at Overthrow Boxing Gym,Power Malu, Founder of PRETTY GIRLS SWEAT, Aeshia DeVore Branchand moderated by Co-Founders of The Brownie Agency, Ayanna Wilks & Brianna Agymang.
As well as a FEMMEpowerment in Media & Entertainment panel featuring author and philanthropist, Karen Civil, Senior VP Marketing at Atlantic Records, Marsha St. Hubert, VP of A&R at Epic Records and Founder of The Basement Series, Erica Coulter, Director of Financial Operations at Blueprint/Maverik, Rebecca Proudfoodand moderated by Dyana Williams, CEO Influence Entertainment & Media Personality for Radio One. Additionally, artist and actor Common, in partnership with Uncle Bobby's Bookstore, will have a signing event in the tent for his new book "Let Love Have the Last Word: A Memoir." See additional details below
The Brownies Presents Health & Wellnesss
Time: 1:45 – 2:30 PM
FEMMEpowerment in Media & Entertainment
Time: 3:45 – 4:30 PM
"Let Love Have The Last Word" Book Signing
Time: 5:00 – 6:30 PM
Marketplace Vendors:
Presented by VisitPhilly
Common Ground
Uncle Bobby's Book Store
Weekend Rush
Sable Collective
Amalgam Comic Books
Remedy Spa & Wellness
Limited tickets are still available for the Picnic, click HERE to purchase!
© 2019, MariaMyraine. All rights reserved.