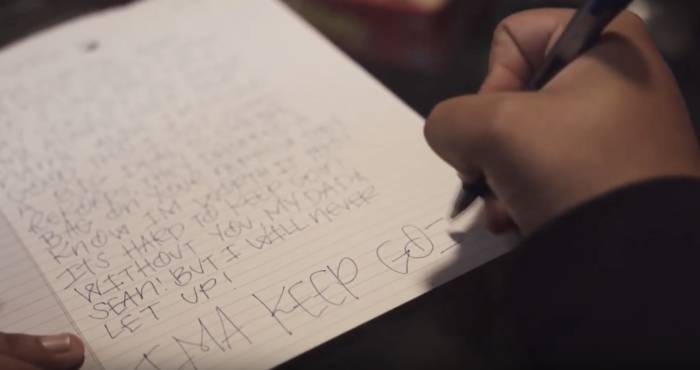 Rucci

's

"Keep Going," is a declaration for him and his people to persevere no matter what. In the video, 

Rucci

 pens a letter to his Unkle BD, an important role model in his life who is currently incarcerated. He writes, "It's hard to keep goin' without you, my dad, & Sean! But I will never let up!" 

Rucci

's toddler niece is featured throughout the video, providing motivation to keep positive no matter what, just as his role models did for him. The last scene sees 

Rucci

 pick her up and hold her before the video pans to his final sentence on the letter, "Ima keep going." If 

Rucci

 has one superpower, it's pushing through when most people wouldn't.
Continuing this keep going mentality, 
Rucci
 announced 
Tako's Son, 
his debut full-length album. He's using his wisdom and charisma to change the narrative on his life and his city.
Rucci
's EMPIRE debut pays tribute to the father who raised him (pictured on the album cover below) and features fellow LA mainstays like Shoreline Mafia, RJMrLA, AzChike, 1TakeJay, Kalan.frfr, and more. 
Tako's Son 
is due to be online 8/16 via EMPIRE.
Tako's Son Tracklisting
Still
Function in the Hood (ft Azchike)
I Aint Gon Lie
Lowrider
Never Finished (ft Lil Duece)
Get the Strap (ft Ohgeesy & Fenix Flexin)
La Bamba
Drop Out
I Just Wanna Ball
Fake Gon Hate (ft 1Takejay)
Nasty (ft Kalan FrFr)
Rags to Riches (ft RJMrLA)
Get Away (ft Romo)
Keep Going
© 2019, Seth Barmash. All rights reserved.