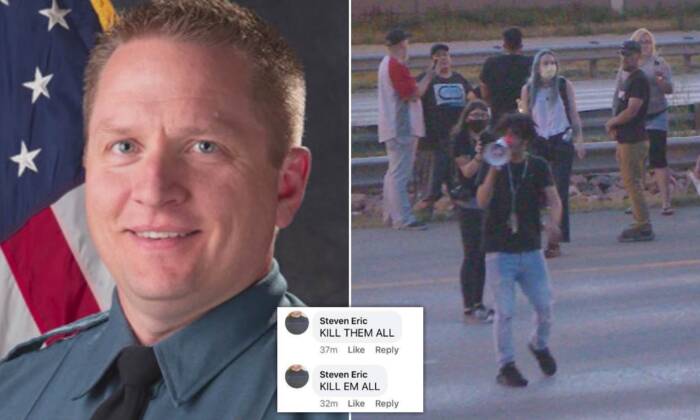 Sgt. Keith Wrede will be suspended and reassigned subsequent to stating "Kill them all" about protesters.
A cop in Colorado Springs who undermined Black Lives Matter protestors on Facebook will be permitted to keep his employment, the division's police boss reported not long ago. Sgt. Keith Wrede — who made the remarks under a bogus Facebook account — will rather be suspended without pay and reassigned to another situation inside the police office. 
Back in June, Wrede utilized a Facebook profile with the phony name "Steven Eric" and posted compromising remarks underneath a Facebook Livestream of a Black Lives Matter march. "Kill them all," he expounded on the demonstrators. He later erased the Facebook account. 
Neighborhood media source KRDO carried the remarks to the Colorado Springs Police Department's attention. After an internal undertakings examination, the office verified that Wrede had been answerable for the comments. 
"It has been found that the Facebook profile used to make those comments did in fact belong to Colorado Springs Police Department Sergeant Keith Wrede," CSPD Chief Vince Niski wrote in a statement published by CBS Denver. "We offer our organizational humility and a heartfelt apology to our entire community."
In his announcement, Niski asserted Wrede offered the remarks "out of frustration" while he was off the clock. 
"There was no indication of any physical action or intent to cause harm," he wrote. "I am in no way minimizing Sergeant Wrede's words. His comments were unacceptable, have damaged our relationship with members of our community, and fell short of our standards."
Wrede will stay utilized by the police office however will be suspended for 40 hours without pay, which sums about $2,000 of lost wages. He will likewise be reassigned from his specific unit to another situation inside the office. 
"Throughout his 20-year career, Sergeant Wrede has professionally served this community," Niski wrote. "While his statements were harmful and reprehensible, I cannot deprive the community of a good police officer and his services because of an isolated incident of an error in judgment."
"I fully recognize that it will take time to rebuild relationships that have been broken," he continued. "The only thing I would ask of our community, is to not condemn every officer that wears our badge because of one individual's action. Please remember officers are human too and make mistakes."
© 2020, Jonathan P-Wright. All rights reserved.