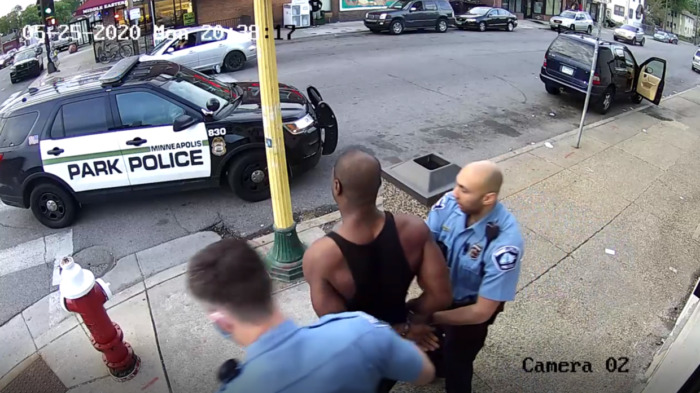 This recording originates from the bodycam of ex-cop Tou Thao.
There is currently a third bodycam video that has been delivered from the Memorial Day capture and killing of George Floyd.
This video film originates from the bodycam of former police officer Tou Thao, the cop who controlled the street crowd as the other three officers — Derek Chauvin, Thomas Lane, and J. Kueng — pinned Floyd against the sidewalk concrete.
In the video, you can see onlookers beg the officers to let Floyd go. One man wearing a sweatshirt shouted at Chauvin to "get off of his … neck, brother." That same man additionally asked Thao, while motioning towards Floyd, "You going to keep him like that?"
The observer kept on tending to Thao, asking, "You gonna let him kill that man in front of you, bro? Bro, he's not even … moving right now, bro." Thao ordered the crowd to move onto the sidewalk. At one point, he is heard telling them, "This is why you don't do drugs, kids."
The crowd starts to turn out to be more upset with how the police are mishandling Floyd. One man confronted Thao with his telephone recording and the previous officer pushed him back towards the walkway. The observers argued for the officers to check Floyd's heartbeat.
Not long ago, it was announced that the full bodycam film of his capture was delivered to the general population from the perspective of former officer Lane. In this video, Floyd begged officials not to shoot him and cried as he was being set into the police vehicle.
In the video, Lane and Kueng walked towards Floyd while he was in his vehicle waiting for officers to show up in the wake of being blamed for utilizing a fake $20 bill in a nearby store. Lane went to the driver's side of the vehicle, where Floyd was, and Kueng went to the passenger's side window.
Lane thumped on the window with his flashlight, however, Floyd did not open the entryway right away. When he opened the entryway, Lane promptly pulled out his firearm and pointed it legitimately at Floyd's head. "Hey man, I'm sorry," Floyd is heard saying on the video. He apologizes again before Lane gets hostile.
Floyd cried as he is pulled from his vehicle and arrested. He is then taken over to the squad car, however, would not get in. He told the officers that he experienced claustrophobia. Minutes after the fact, he was put into the cop vehicle, yet some way or another got out.
Seconds after the fact, Floyd is seen lying on the ground while Chauvin's knee is squeezed onto his neck. He openly cried out for his late mother and stated, "I can't breathe," repeatedly.
"Tell my kids I love them. I'm dead," Floyd said before he passed out. He was pronounced dead at the hospital.
Lane, Kueng and Thao are accused of helping and abetting second-degree murder and aiding and abetting second-degree manslaughter. Chauvin is accused of second-degree murder, third-degree murder, and second-degree manslaughter. Their trials are planned for March.
You can watch the new bodycam film underneath.
© 2020, Jonathan P-Wright. All rights reserved.