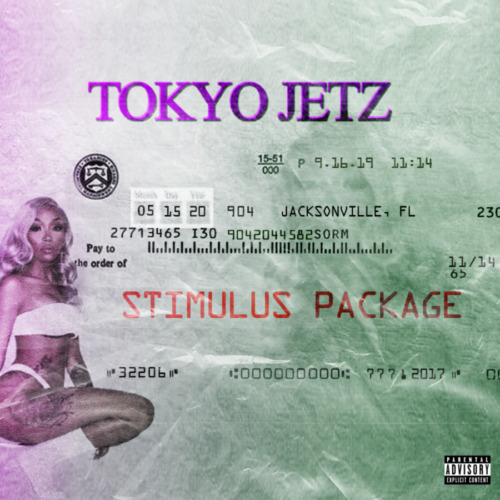 Grand Hustle Music Group artist Tokyo Jetz released her anticipated EP today, Stimulus Package which is available now on all streaming services. In addition to the music release, Tokyo gave fans a lyric video to latest single; "See Me", on YouTube. Produced by popular producers Mattazik, Tasha Catour, Al Geno and KWilz, Stimulus Package features 5 fun and relatable new tracks which can be described as her comeback project, since her last, in 2019. The Florida native paints a vivid lyrical picture with each song, effortlessly rapping each bar as powerful as the last. Her lead single "Respect" sets the tone for the project, letting it be clear what she is demanding and what she has for herself.
Each song to follow has similar themes, all expressing self confidence, being comfortable with your sexuality, focusing on your peace of mind and getting to your goals. Tokyo had a special Instagram Live party, previewing the project with her fanbase which was received well. This project comes before her highly anticipated studio album, "Outside", which features hit single SODD. Stimulus Package is available on all platforms.
Tracklist
1. Respect (Prod. Mattazik)
2. No Love Story (Prod. Tasha Catour)
3. Kay (Prod. KWilz x Mattazik)
4. Interlude (Prod. Al Geno x Mattazik)
5. See Me (Prod. Mattazik)
Check out Tokyo Jetz new project 'Stimulus Package' here. Follow @eldorado2452 on Twitter and Instagram for all your music, sports and entertainment news.
© 2020, Eldorado2452. All rights reserved.