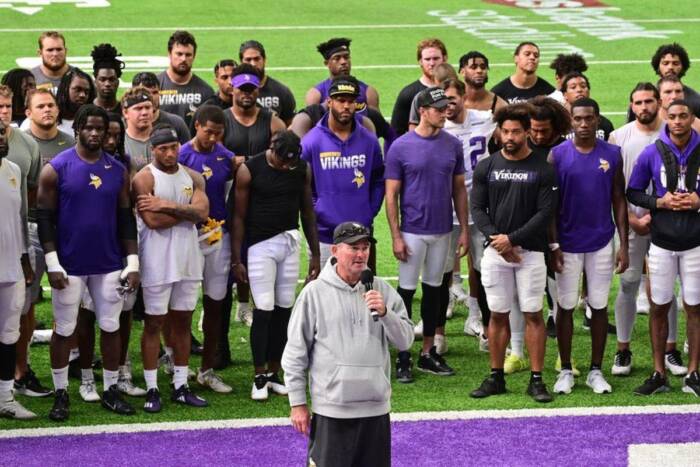 The family of George Floyd- the Black man who was killed by Minneapolis police officers on Memorial Day- will be honored by the Minnesota Vikings.
A statement was released by the team wherein they announced that on their September 13 game against Green Bay Packers, the family of Floyd will be honored at the U.S. Bank Stadium following the performance of "Lift Every Voice and Sing."
They also plan on addressing the issue of racism by employing other measures. The players are all set to don t-shirts with the phrase "Be the Change" on the front, while their backs will demonstrate the names of the 200 Black people who were either killed due to racist attacks or police brutality.
Furthermore, the field's end zones will demonstrate messages such as "It Takes All of Us" and "End Racism." Players can also don helmet decals with sporting the name of a victim of systemic racism. They can choose to wear it for their opening game or throughout the season.
Several other teams have decided to address police brutality and racism during this NFL season. For instance, the Miami Dolphins announced that they plan to remain in their locker room when the "Star Spangled Banner" and "Lift Every Voice and Sing," are played.
The team released a two-minute clip wherein they spoke about their intention.
"This attempt to unify only creates more divide. So we'll skip this song and dance, and as a team we'll stay inside," the Dolphins players said. "We need changed hearts, not just a response to pressure. Enough, no more fluff and empty gestures. We need owners with influence and pockets bigger than ours to call up officials and flex political power."
© 2020, The Millennial General. All rights reserved.