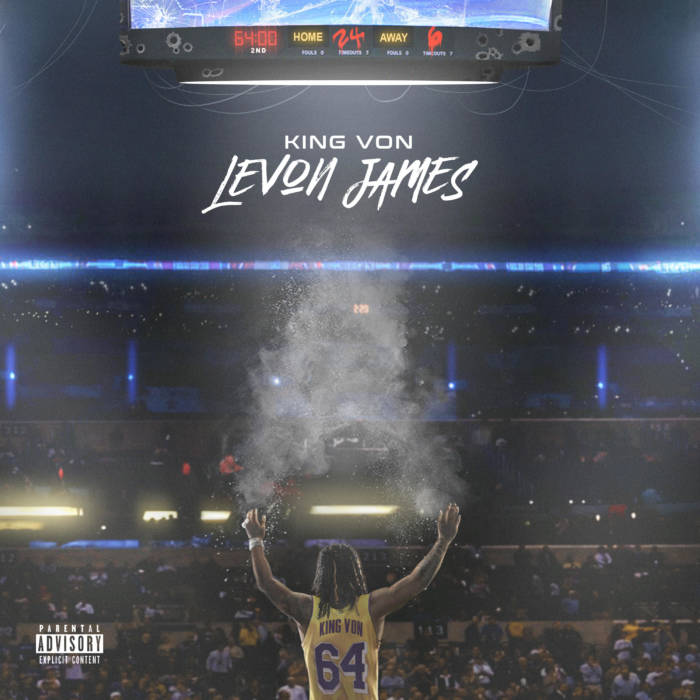 With his thrilling sense of drama and menacing mic presence, it's impossible to sit still while listening to King Von. Leveling up with a new collection of street stories and war cries, the Chicago rising star shares his second project, LeVon James. Featuring two appearances from Von's OTF label head Lil Durk, along with an array of the biggest names in street rap, including G Herbo, YNW Melly, NLE Choppa, Tee Grizzley, Yungeen Ace, and OTF artist Booka600, LeVon James is available to stream everywhere!
Additionally, he's also dropping a new video at 12 pm for the album highlight, On Yo A**" featuring G Herbo.
With a title that alludes to Von's G.O.A.T. aspirations and a cover that pays homage to LeBron James's pre-game chalk ritual, LeVon James is a fierce and invigorating listen, painting a vivid picture of Chicago chaos atop glistening instrumentals from Von's frequent collaborator Chopsquad DJ, among others. Following up 2019's successful 
Grandson Vol. 1
 (over 350 million total streams), the new project reaffirms the Only The Family rapper's rep as one of the game's best storytellers–he packs detail and wit into his edge-of-seat rhymes without losing his expert sense of time and place–and expands his box of tools to include melodic rave-ups like "Hella Glocks," and romantic rap ballads like "Trust Issues."
Along with the project, Von makes mischief in the new video for
 LeVon James
 highlight "On Yo A**." A banger with a hyperactive beat from Chopsquad DJ, who layers video game synths and satanic choirs atop rollicking 808s, "On Yo A**" finds an ultra-confident Von stalks his city streets like a slasher-movie monster, warning that he's not the one. In the high school-set video, directed by CrownSoHeavy, Von plays a student who stands up to oppressive jocks, as G Herbo plays the principal, delivering his verse over the P.A. system. "On Yo A**" is the second video from LeVon James, following the breakout hit "
Took Her To The O
"–with a video that finds Von telling one of his trademark Crazy Stories, the new song racked up over 8 million combined streams since its February 21 release.
Although King Von has only been rapping for slightly over a year, he is quickly shooting to the top and you should have him on your radar.
© 2020, Seth "Digital Crates" Barmash. All rights reserved.