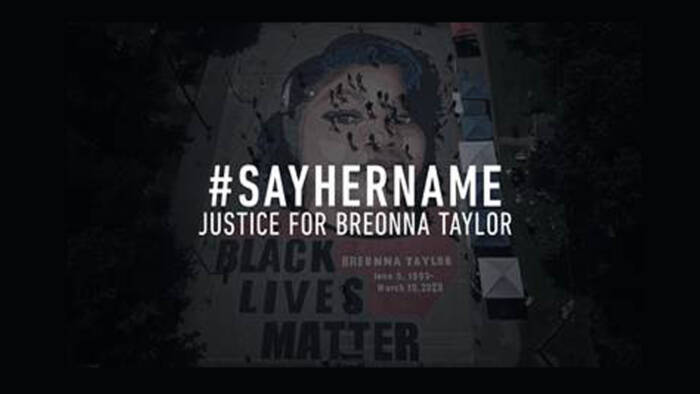 The exclusive broadcast will air on Saturday, Aug. 22 at 9 pm ET/PT.
Kyrie Irving is bringing his TV exclusive about pursuing justice for Breonna Taylor to BET Her and BET.
"#SayHerName, Justice For Breonna Taylor" originally aired back in July on PlayersTV digital and broadcast network. The show, which is produced by Irving, will debut on BET Her on Saturday, Aug. 22 at 9 pm ET/PT. The show will also air on BET on Saturday, Aug. 29 at 11 pm ET/PT.
"It is critical to magnify how Black women are, tragically, also subject to lethal police brutality, and we must demand that Breonna Taylor's killers are brought to justice," said Scott Mills, President of BET. "We are committed to utilizing our platforms to drive awareness and sustainable impact. We stand in solidarity with Breonna's family and all of the voices on the frontlines fighting for justice to be served."
The broadcast exclusive includes discussions with Irving, Common, Congresswoman Ayanna Pressley, Jemele Hill, Dr. Brittney Cooper, Brittany Packnett Cunningham, Black Lives Matter co-founder Alicia Garza and that's just the beginning.
The show will feature particular calls of action that individuals can take to demand justice, for example, enrolling to vote, calling the city and state authorities, and urging individuals to post on social media platforms. Irving says that pointing out fundamental prejudice and police brutality "is critical to magnify how these unjust behaviors and practices are directly impacting Black women."
"Too often, there is silence when Black women are killed by law enforcement. While millions of protestors have taken to the streets demanding change, we must continue calling for justice for Breonna Taylor whose case remains largely disconnected from the broader narrative," said Tavia Pitts, VP of Ad Sales.
She continued, "BET Her is dedicated to bringing awareness to important issues directly affecting the Black community, specifically Black women. We are proud to partner with Kyrie, PlayersTV and the many leading voices in the frontlines fighting for bold reforms that address racially biased policing and misuse of force. Together, we will not be ignored."
© 2020, Jonathan P-Wright. All rights reserved.