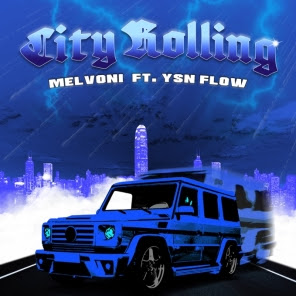 Melvoni, the young Brooklyn upstart setting the city's rap scene ablaze with his high-octane anthems, continues #MAF (Melvoni Approved Fridays) with the release of "City Rolling," a new song and video featuring YSN Flow. The record continues his sturdy Melvoni Approved Friday's campaign, which has continued to grow the 16-year-old's buzz following the release of his debut EP, WHO TF IS MELVONI.
[LISTEN TO "CITY ROLLING" HERE]
[WATCH "CITY ROLLING" HERE]
[FOLLOW MELVONI ON INSTAGRAM HERE]
With every release, Melvoni's songwriting and rapping abilities expand. His consistent #MAF campaign has resulted in standout records like "Stackhouse" that have undoubtedly boosted his profile and garnered attention from outlets like Pitchfork who named his latest #MAF release "Oh My," the New Rap Song of The Day on August 3rd and featured the track among The Pitches: Best Rap of The Week.
On "City Rolling," Melvoni reprises his role as well intentioned soul of mischief, waxing poetic with YSN Flow about the fast life they've adopted as they chase their dreams. Following YSN Flow's verse, Melvoni jumps headfirst singing and disallowing even the most casual listener from turning away from his melodic brilliance. The music video, also available now, is an engaging snapshot of a day in the life, as Melvoni and his crew traverse empty alleyways, basketball courts and gas stations, merely looking for a spot to post up and be themselves.
At this point in his young career, it already appears that there's nothing Melvoni can't do. He's captured the hearts of city faithful with his EP and #MAF run, and his versatility is an early indicator that rowdy anthems come just as easily to the young artist as the emotion-laden ballads that have grown him a trusted audience.
When Melvoni screams, "I'm from New York," it tells you everything you need to know. The 17-year-old Brooklyn wunderkind represents the toughest spirit of New York through and through. Born to Jamaican parents, he spent his childhood back-and-forth between the States and Jamaica. Facing hardship growing up, he ditched his first part-time job after being robbed and turned to the streets. Yet, he took that hustle to the studio as soon as possible, recording music and catching the attention of his manager outside of a concert.  In the aftermath, he found himself in an L.A. studio recording "No Man's Land"—which originally might've featured the late and great Pop Smoke.
Rapping with fire and fury, he bodies minimalist production upheld by organic instrumentation. He quietly clawed his way to the forefront of the Borough's 21st century vanguard with nearly 8 million views and 5 million streams. As "Memories" caught on, Pitchfork claimed, "It's only a matter of time until "Memories" is playing from every Bluetooth speaker as New York City high schools dismiss." Touted by Genius, Lyrical Lemonade, Elevator Magazine, Fashionably Early, and more, he inked a deal with Epic Records and emerged as a voice for his city in 2020. He's ready to go worldwide.
© 2020, Seth Barmash. All rights reserved.