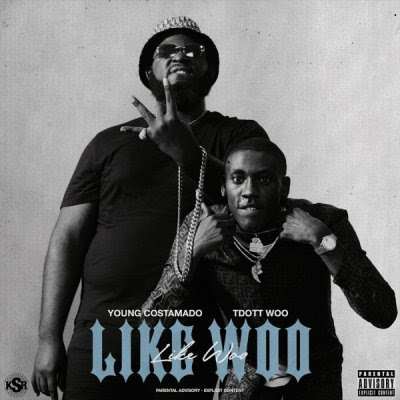 Young Costamado is a recording artist hailing from Brooklyn, NY. Growing up in the Canarsie section of Brooklyn, Costamado began his interest in music at an early age. In the third grade he wrote his first song and by the age of 17 he recorded his first track. He was heavily musically influenced by Shady Records and G-Unit during his youth. He was also a high school football star which even landed him a position as a college player, but a few bad Decisions landed him and out of jail, in return ending his football career early. He was kicked off the football team and subsequently banned from all New York colleges at during that time period. When his football career ended, he began involving himself in gang activity and re-focusing his mind on his first love, music. His first notable hit song & music video "Folks In The Trunk Pt.1" gained high traction on YouTube and was released while the rapper was incarcerated. Due to the success of this first single, Costamado then presented fans with "Folk In The Trunk Pt. 2" featuring fellow Brooklyn rapper Dee Sav. The second installation of the single made an even bigger impact than the first, garnishing over 920,000 views on YouTube. Costamado continued releasing singles including "Gltt Bow" with famed drill producer Axl Beats and "Slide" featuring Columbia Records signed rapper Fivio Foreign. After releasing several more visuals for his fan base to consume on YouTube, Costamado then released his debut mixtape, "Woodemic" during the Covid-19 Virus pandemic. The mixtape featured the singles "Eat or Starve" and "Drill Olympics Pt.1" as well as fan favorites "GLTT Bow" and "Slide". Costamado is now working on his next project prospectively entitled "Suvy" as well as a collaboration project with popular Brooklyn dancer and upcoming rapper "TDott Woo". Both projects are slated for release in the late Summer/Early Fall.
KSR Records is proud to usher in the next wave in Brooklyn Drill with "Like Woo," the new single by the buzz-worthy newcomer Young Costamado and rising social media sensation TDott Woo, available now on all streaming platforms. Infusing the now-iconic organ riff popularized by Black Rob's "Whoa" with the fresh energy of the Brooklyn Drill sound, this song is guaranteed to become New York City's next anthem and solidify these two artists as the next to watch in the rap game.
Both repping 'The Flossy,' Brooklyn's Canarsie neighborhood, TDott Woo and Young Costamado have established a friendship that makes for a perfect recording partnership, each complementing the other with their unique delivery and slightly different interpretation of what their crew refers to as the Woo Lifestyle. Their bond has become so strong that they are working on a joint mixtape, Kobe & Shaq due out later this month. But they each came into the rap game very differently.
While he has already emerged as one of the stars of the Brooklyn Drill movement, "Like Woo" is actually TDott Woo's very first offering as a rapper. A native of Canarsie, he was first introduced to fans through a scene-stealing appearance in one of Pop Smoke's earliest videos, "MPR." The fan reaction to TDott Woo's dance moves led to an appearance in the late rapper's first national hit, "Welcome To The Party." With TDott Woo's "Aye" Dance becoming just as popular as the song itself, it was only a matter of time before fans sought him out. By the time he introduced the "Woo Slide" in Fivio Foreign's "Big Drip" video, TDott had an established following of his own. One that has constantly asked him to bring his unique energy and vibrant personality into the musical realm. Bolstered by Fivio and Pop's early support, TDott got to work, honing his skills, learning the game and making sure that once he stepped onto the rap scene, it would be clear and undeniable that he is here to stay.
Young Costamado, on the other hand, has spent the past year building up his resume and amassing an impressive discography as he steps to the forefront of the Brooklyn Drill movement. His own singles, including the Fivio Foreign – assisted "Slide" have generated over 1.5M YouTube views. Costamado was also featured on Fetty Luchiano's hit single "Woo Walk," which has garnered over 3M views and close to a million streams on Spotify alone.
In addition to the joint project, TDott Woo is also working on his solo debut and aims to offer fans his first solo single before the end of the year. Young Costamado is currently working on the follow-up to the street favorite Woodemic, released earlier this year.
Follow TDott Woo:
Instagram: https://www.instagram.com/tdott_woo/
Facebook: https://www.facebook.com/tdottwoowalk…
Twitter:https://twitter.com/TDOTTWOO
Follow Young Costamado:
Instagram: https://www.instagram.com/youngcostam… Facebook:https://www.facebook.com/Youngcostama…
Twitter: https://twitter.com/youngcostamado
© 2020, Seth "Digital Crates" Barmash. All rights reserved.