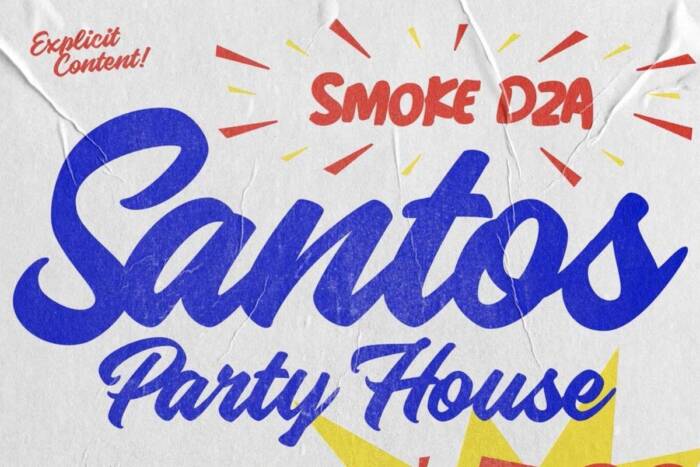 Smoke DZA collaborates with rappers Big K.R.I.T, Wiz Khalifa, and Curren$y in his latest single "Santos Party House. This video comes right before his upcoming project Homegrown, which will release on streaming services on Oct. 2. Before "Santos Party House," DZA's single "Hibachi" was released, which featured Flipp Dinero and Jadakiss.
This track was produced by Girl Talk and shows DZA, K.R.I.T. and Curren$y trade bars as Wiz walks in smoothly for the catchy hook. "Santos Party House" is accompanied with a fun animated cartoon, wherein the four rappers can be seen donning their own merchandise and signature fits, as they make their way through the city to meet each other and perform a live show together. The cover art of the new song aligns with the theme, since it is a mock flyer for the live show in the song.
Curren$y is also gearing up to satisfy his fans this year. A few days ago, the veteran from New Orleans launched a new visual for his track "Mugallo Red" featuring Rick Ross. In July, Curren$y collaborated with producer Harry Fraud to create the joint EP The OutRunners. Smoke DZA and Wiz were featured on Curren$y's La Marina in 2018.
Smoke DZA spoke about a variety of topics on an episode of Drink Champs, such as the influence of Big L:
"To somebody like me that was born in the era of Big L and studying rap patterns, and studying Big L himself, he is Mt. Rushmore," DZA says. "It's certain young kids like my artist Jayy Grams that actually is meticulous to certain rap music and studying patterns and watching battle rap and doing different shit to sharpen his sword. Studying somebody like Big L would work for him 'cause metaphorically, how he set up his bars, structure, the type of beats he rapped on — for someone that caters to lyrics — like Benny the Butcher, that is shit that kids could take. That's nutrients and vitamins."
© 2020, The Millennial General. All rights reserved.