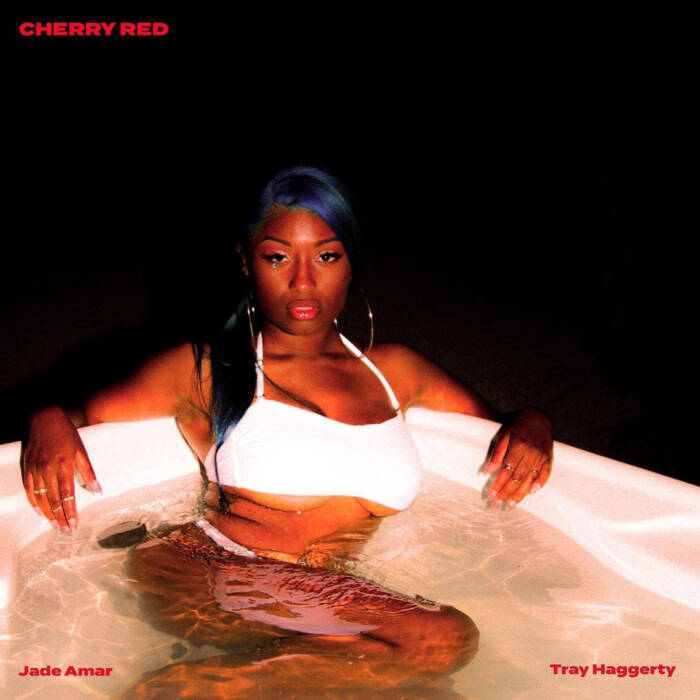 WRITER-TURNED-RAPPER JADE AMAR RELEASES SINGLE "CHERRY RED" FEAT. TRAY HAGGERTY
Jade Amar released her debut single today, "Cherry Red" featuring Tray Haggerty. There's nothing subtle about this showcase piece. It's a melodic and silky smooth song about stunting on an ex while showing out in new designer, bringing listeners along for the ride as she breezes past in her "cherry red foreign with the peanut butter guts."
A writer-turned-rapper, Amar built her career penning songs for artists from Cardi B and Nicki Minaj, to Megan Thee Stallion, NBA YoungBoy, Saweetie, Kehlani, Queen Naija and others. The Baltimore-born, Los Angeles-bred artist is well versed in the deep, unhinged sounds of East and the soulful, warm melodies of West. This is what made her such a sought-after songwriter: she could perfectly encapsulate exactly what other musicians wanted, regardless of style.
"Cherry Red" was in fact written for another artist, but as the track came together, Amar knew she couldn't give it away. It was hers for the taking, and after bringing aboard up-and-comer Tray Haggerty, it was written in stone: the perfect song to make her debut.
Check out "Cherry Red" feat. Tray Haggerty below and stay tuned for more from Jade Amar.
Jade Amar – "Cherry Red" feat. Tray Haggerty
Listen/Buy/Stream: https://lnkfi.re/CherryRed
Jade Amar was on track for a career in film when she first moved to L.A., but after dazzling an A&R with her freestyling skills during a chance encounter at the BET Awards, her course was permanently altered. She transferred from SMC to the Berklee College of Music, enrolling in their Music Business program to study up on the industry while working multiple jobs to pay her tuition and continuing to write music in her free time.
In 2019, Jade landed a pub deal with Prescription Songs after impressing Mike Crook (Blueface, Doja Cat, Juice WRLD, YG) during a writing session for Saweetie. Since then, Jade has been brought into writing sessions for Cardi B, Nicki Minaj, Megan Thee Stallion, Kehlani, NBA YoungBoy, Kevin Gates, Dani Leigh, Queen Naija, and others.
The Baltimore-born, LA-bred songstress has been singing and rapping since age seven and can recount many fond memories of her father helping her to come up with lyrics on their walks to the store as well as hours spent watching and analyzing rap battle videos with her uncle. Jade has taken inspiration from the unique flow and pattern raps of fellow Baltimore-native, King Los and others like Missy Elliott, Eve, Drake, and J. Cole.
Despite her success as a songwriter, Amar has bigger ambitions. "Cherry Red" stands as the cherry on top of a fruitful songwriting career, leaving the door wide open for a push into the limelight. A behind-the-scenes breakout, Amar has all the ingredients to reach stardom like the very artists she's written for.
Jade Amar
instagram | twitter | youtube | soundcloud | spotify | facebook
© 2020, Seth Barmash. All rights reserved.