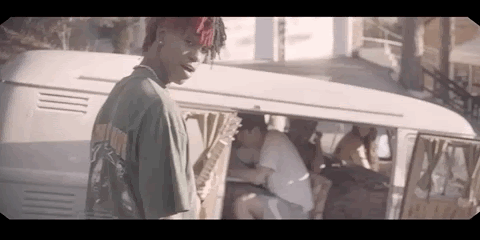 When you're 6'7″, it might be tricky to fit in as a teenager. Well, try being a 6'7″ aspiring rapper growing up in a city like Milwaukee when your sound is not necessarily consistent with their love of the traditional midwest drill scene. That's the type of come-up that 20-year-old baller turned rapper, DC The Don, has experienced but is now flourishing in. After moving to LA back in 2016, his track "Everything 1k" was used by Lonzo Ball, the older brother of DC's old Chico Hills/Big Ballers teammate, LaMelo Ball, in the ad for his debut Big Baller Brand sneaker, DC knew he had a shot in the rap game. Fast-forwarding to 2019 into 2020, DC has ended an almost 2-year hiatus from music (which sparked the fan-led #FREEDC movement) and is prepping the release of his debut project, Come As You Are, arriving 8/7 via Rostrum Records.
Along with the album announcement, he's dropping off a new video/single titled, "Campfire Story." In the Cobian x OUTLAW-directed visual, he and some homies take off on a relaxing escapade to Cali's Big Bear Lake, posting up by – you guessed it – a campfire, and later taking a break from the CA sun for a dive in the water. The track itself is not so much a story as a mission statement for DC: "Boy, you so solid/F*ck around you can change the world someday/Let me pop my collar, lil bro, just chill/We can go number one someday."
He's been steadily dropping singles since November of last year, including fan favorites like the pop-punk "
Jesus Can't Save You
" (5 million streams) and "
Red Light
" ft. 
DDG
 & 
YBN Almighty Jay
 (over 4 million combined plays on YouTube and Spotify). Most recently, he shared "
Eclipse
," which generated 700k streams in its first week of release, and "
Nascar Racer
," a high-octane new anthem with more than 165k Spotify streams since its early July drop.
© 2020, Seth Barmash. All rights reserved.