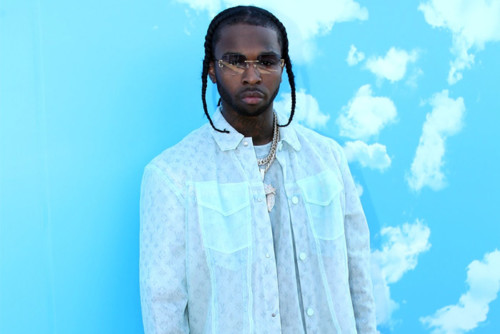 RIP Pop Smoke.
At just 20 years of age, rapper, Pop Smoke was murdered in a home invasion robbery in Los Angeles.
According to TMZ, law enforcement confirmed that two masked men arrived at Pop's Hollywood Hills home around 4:30 AM. They broke into the house and fired multiple shots – one critically injuring Pop Smoke. Witnesses say the men were seen fleeing on foot. Pop, whose real name is Bashar Jackson, was rushed to Cedars-Sina Medical Center where he was pronounced dead.
This morning, the Hip Hop community took to social media to mourn yet another devastating loss. The promising Hip Hop newcomer was remembered by fellow artists all morning. Nicki Minaj, who collaborated with the Brooklyn rapper paid tribute to her friend along with what seems to be a reference to his killers: "the Bible tells us that jealousy is a cruel as the grave. Unbelievable. Rest In Peace, Pop."
Among other artists who paid their respect online were 50 Cent, Ludacris, Quavo, Tyga, Nas, The Game and more.
R.I.P to my man Pop Smoke, No sympathy for winners. 🕊God bless him pic.twitter.com/5ZFa5ILUzl

— 50cent (@50cent) February 19, 2020
Fell asleep for 3 hours, woke up & Pop Smoke dead. That's brazy…. 20 years old, damn.

— The Game (@thegame) February 19, 2020
Rest Up Pop Smoke, you were too young. God Bless and comfort your family. What a crazy trajectory you were on man smh 🙏🏾🙏🏾🙏🏾

— Chance The Rapper (@chancetherapper) February 19, 2020
damn i meant to block someone n that shit deleteddddddddd

rest up pop smoke!! 20 years old, hella sweet FREAKISHLY talented. shit sick out here. prayers to his family forreal

— Kehlani (@Kehlani) February 19, 2020
© 2020, MariaMyraine. All rights reserved.