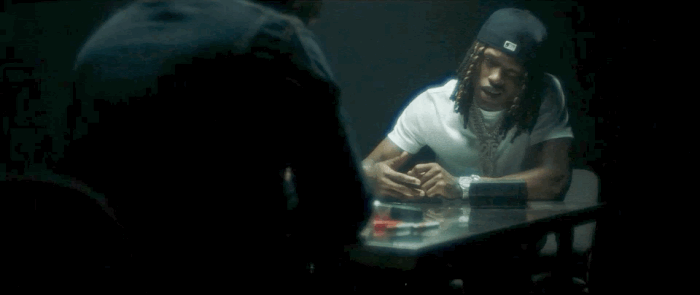 King Von, the rising star of Lil Durk's Only The Family label, is dropping his video for "Why He Told" this Friday. Despite rapping for fewer than 2 years, the 25 y/o has been labeled as one of rap's most visceral and animated storytellers and he delivers nothing short of another  "Crazy Story" in this video.
In this visual ballad, Von recounts the betrayal of a best friend fake snitching on him with such clarity and remorse, it's almost like witnessing an intimate conversation between the two.   
Using a mix of dialogue, narration, character development, and pop culture references to describe hitting a lick, Von's third song ever released, "Crazy Story" went Gold in less than a year and launched him into stardom. With subsequent releases of his mixtape Grandson Vol. 1 and project, LeVon James, King Von's profile has exploded with over 650M collective streams.  
King Von was born in the South Side of Chicago, growing up in O Block, the area that produced Chief Keef.  After rightfully beating an erroneous murder charge that could have put him away for life, King Von took inspiration from heroes like Lil Wayne and turned to rapping, linking up with Lil Durk who signed him to his OTF label. Within six months, Von had a series of viral hits, including the sinister "Problems," which has over 3.4 million views after its debut on Lil Durk's YouTube channel, and the defiant "War Wit Us," which has over 3.8 million YouTube views. With "Crazy Story" currently burning up urban radio (it recently reached #76 on the nationwide chart), Von seems to be on the fast track to translate his fervent local following into national fame.
Listen to the single "Why He Told". Out now! Stream: https://empire.ffm.to/whyhetold.oyd
Follow King Von:
https://www.instagram.com/kingvonfrmdao
https://twitter.com/KingVonFrmdaWic
Subscribe to King Von's official channel for exclusive music videos and behind the scenes looks: http://bit.ly/Subscribe-to-King-Von
© 2020, Seth "Digital Crates" Barmash. All rights reserved.