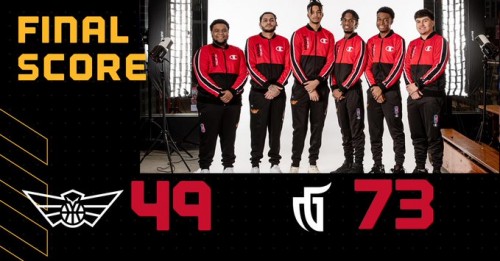 BP (Michael Diaz-Cruz) Scores Franchise-Record 39 Points During Second Game vs. Mavs Gaming
Club To Play Second Game of Season on Thursday against 2019 NBA 2K League Champions T-Wolves Gaming
Earlier this evening, Hawks Talon Gaming Club, the official NBA 2K League affiliate of the Atlanta Hawks, lost two games to Mavs Gaming, the in a best-of-three format which results in the team's first regular-season loss of the 2020 NBA 2K League regular season. The result of the team's first game was a 55-72 loss, and the outcome of the second game was a 49-73 loss.
Not the outcome we wanted but it was good to be back on the court.

While we're in the lab, check out @BPTHEGOD_'s team-record 39 points ⤵️ pic.twitter.com/j6IOY2ewaf

— Hawks Talon GC (@HawksTalonGC) May 6, 2020
"We all know what BP is capable of, and he showed a bit of that tonight. Credit to Mavs Gaming, they outrebounded us which led to many successful second-chance opportunities for them tonight," Hawks Talon GC's Team Manager and Head Coach Wesley Acuff said. "We will get back to practice tomorrow and focus on T-Wolves Gaming."
In the team's first game of the series against Mavs Gaming, BP (Michael Diaz-Cruz) led the team with 20 points to go along with seven assists and one steal. KEL (Mykel Wilson) finished the game with 19 points, while the team's 2020 first-round pick LEE (Lee Lamb) totaled 10 points and a team-high 17 rebounds to record the team's first double-double of the season. He also contributed with a team-high three blocks. Hawks Talon's FOLLOWTHEGOD (Kwan Larry Niblack Jr.) added six points going two-for-two on three's, and MRSTYLEZ (Andrew Valle) added three rebounds and one block.
In the team's second matchup of the best-of-three series, Hawks Talon's BP led the game with a franchise-record 39 points to go along with two assists, one rebound and one steal. KEL totaled four points and three steals. LEE finished with 10 rebounds and three assists while MRSTLYEZ added three points and two assists, and FOLLOWTHEGOD contributed with three points and three steals.
Hawks Talon will continue its regular season competition as part of six weeks of remote gameplay. The club's next match will take place at 7 p.m. on Thursday, May 7 against the 2019 NBA 2K League Champions T-Wolves Gaming. These games will be livestreamed on the league's Twitch and YouTube channels.
To stay up to date on Hawks Talon Gaming Club, visit HawksTalonGC.gg and follow the team's social channels on Twitter, Instagram and Facebook. Follow @eldorado2452 on Twitter and Instagram for all your Atlanta Hawks, NBA and sports news.
© 2020, Eldorado2452. All rights reserved.