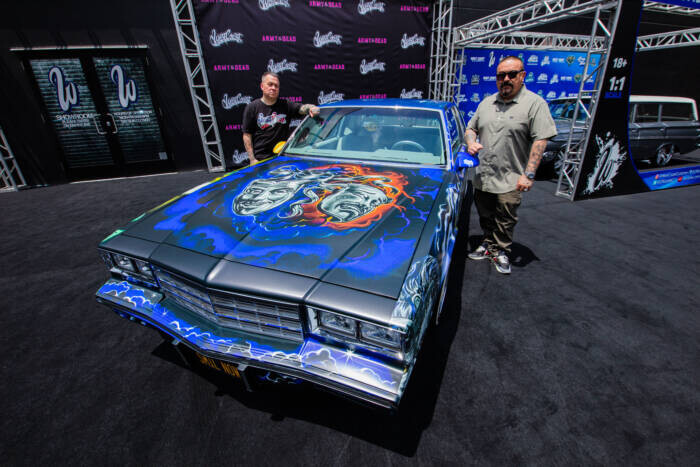 Directed by Zack Snyder, Netflix's Army Of The Dead is a glorious combination of genres and styles, combining zombie horror, heist, and salvage stories into an action-packed whole. Inspired by the Las Vegas-set film, and the references to lowrider culture sprinkled in throughout, Netflix has partnered with legendary designer Mister Cartoon and famed car customizer West Coast Customs to create a custom designed lowrider (a 1983 Monte Carlo, to be precise), specialty-wrapped with artwork that captures the film's essence.
In his design, Mister Cartoon leaned into the classic Laugh Now, Cry Later motif by creating a yin-yang concept for the lowrider: one half of the car depicts the glitz, glamor, and high-rolling nature of Las Vegas, and the other depicts the zombie threat and grisly fate that awaits the film's ensemble cast (led by Dave Bautista) if their gambit fails.
Check out a gallery of photos of Mister Cartoon, Ryan Friedlinghaus of WCC, and the custom-wrapped car HERE
© 2021, Seth Barmash. All rights reserved.