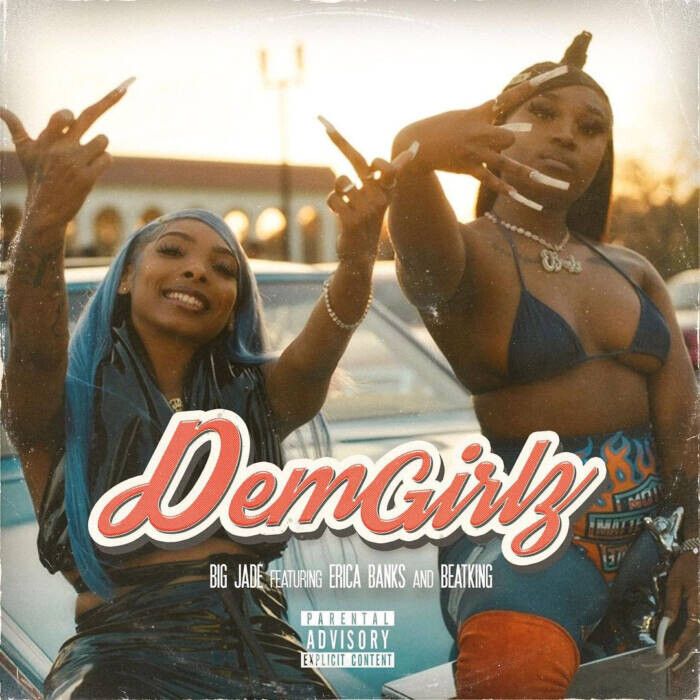 Armed with a percussive flow and an outsized charisma, Big Jade is one of the freshest voices in a busy Texas rap scene. Connecting with her mentor BeatKing and "Buss It" hitmaker Erica Banks, Jade shares "Dem Girlz," her new single. Built around a souped-up sample of David Banner's "Like A Pimp" (ft. Lil Flip), the BeatKing-produced "Dem Girlz" flips the script on the 2004 hit, as Jade and Erica Banks raise middle fingers to broke haters with triplet flows. In the video, the Texas trio steal the spotlight at a car meet in Houston. Surrounded by classic boxframes with chariot-style rims and messages inscribed on their hoods, Jade, BeatKing, and Banks strut their stuff as the camera spotlights members of the community.
"Dem Girlz" is the latest single from Pressure, Jade's upcoming debut project. The song features multiple productions from BeatKing, Jade's rap game mentor, who discovered her through her freestyle videos on YouTube, as well as contributions from DJ Chose, Bankroll Got It, and more. Pressureprovides a fresh spin on the traditional sounds of Texas rap, packing enough oomph in the low-end to satisfy Houston club-goers, and rolls out the red carpet for a series of guests from the Lone Star State, including BeatKing, Erica Banks, Slim Thug, Queendom Come, and OMB Bloodbath. Home to recent singles like "No Hook" and the DJ Chose-produced "Gucci Bag" and following in the wake of a series of verbally dexterous freestyle videos (including "Groupies"), Pressure releases next month via Alamo Records.
Born and raised in Beaumont, a small city in East Texas far removed from industry hubs like Houston and New Orleans, Big Jade built an online following with her unapologetic realness. In popular videos like "RPM" and "Phone Jumpin," praised by Pitchfork, Jade exists in her element, showing off her rapping ability while styling hair, her longtime day job. Her brief, but visceral trap bangers caught the attention of BeatKing, who took her under his wing and offered her guest verses and some of his fieriest beats. In late 2020, Jade joined up with her mentor BeatKing for the Texas trap slapper "Respectfully," also featuring an appearance from Queendome Come. Jade keeps her fans entertained with a regular supply of freestyles, like the recent "Before The Deal," that show off her bars and indefatigable demeanor. Now with the backing of Alamo Records, Big Jade is ready to make the leap from being the pride of her town to a nationally recognized star.
Instagram | twitter | youtube | soundcloud
© 2021, Seth Barmash. All rights reserved.