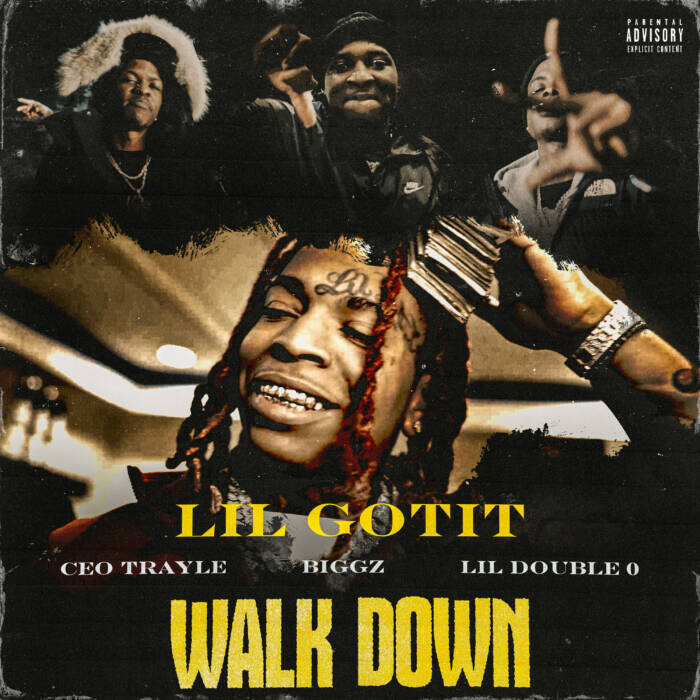 After feeding the streets with Top Chef Gotit, Atlanta's one and only "real hood baby" must have left the stove running. Continuing to cook up heat and icing any opp that can't handle it along the way, Lil Gotit returns to share "Walk Down," his new single and music video. Featuring a guest verse from rising rapper CEO Trayle, as well as spots from Gotit's associates Biggz and Lil Double 0, the track sees Gotit in his musical element, flashing an unfazed flow over a frantic, menacing trap instrumental. His laid-back bars, juxtaposed with the urgent, booming beat on the track gives a sense that the threat of imminent danger is looming, but not for Gotit. Directed by ShotByWolf, the video finds Lil Gotit and company trading verse after verse, sending warning shots toward anyone bold enough to try them.
"Walk Down" arrives ahead of Lil Gotit's forthcoming project, Big Zone 3, due for release in early 2022 via Alamo Records. Big Zone 3 follows behind the Gunna-executive-produced Top Chef Gotit, released early this past summer. Featuring multiple appearances from his brother Lil Keed, an additional verse from NAV, and additional guest spots from Yak Gotti, Millie Go Lightly, and Lil Pj, Top Chef Gotit marked Gotit's ascension into the ranks of Atlanta's trap elite, earning the official co-sign from his slimes like Young Thug. With Big Zone 3, Gotit looks to cement his legacy within ATL's storied trap tradition.
Stay tuned for much more from Lil Gotit in early 2022.
Watch "Walk Down" ft. Biggz, CEO Trayle, & Lil Double 0: https://youtu.be/zZxQUBkrIaA
Buy/Stream "Walk Down" ft. Biggz, CEO Trayle, & Lil Double 0: https://smarturl.it/walkdownlilgotit
© 2021, Seth Barmash. All rights reserved.