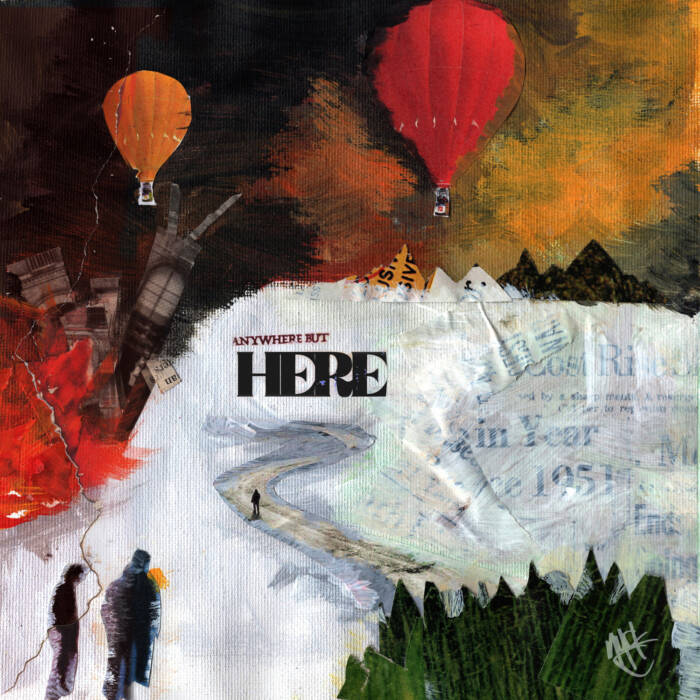 He's usually easygoing, but you don't want to catch Pro Era rapper Nyck Caution on a bad day. Letting out his aggression with help from Denzel Curry, Nyck Caution shares "Bad Day," his new single. Tag-teaming atop a sinister drill beat–the kind in vogue in Nyck's home borough of Brooklyn–Nyck and Denzel display an electric chemistry as they trade rapidfire couplets between sliding 808s. The song is a thrilling display of full-throttle lyricism, each emcee ratcheting up their intensity as they one-up each other with confrontational punchlines: "Guess this is what a stone heart does/I'm a good guy but just wait until I'm charged up," warns Nyck. "Bad Day" is the latest single from Nyck's upcoming album Anywhere But Here.
Nyck Caution's official solo debut album, Anywhere But Here is a soulful and self-assured effort, exploring all facets of Nyck's personality, offering braggadocious bars on boom-bap bangers like "What You Want," experimenting with Brooklyn drill sounds on "Bad Day," and delving into introspective interrogations of his state of mind on ballads like "Motion Sickness." Steeped in the culture of his home borough, Anywhere But Here reverberates with booming bass notes and crisp percussion, delivering a spin on classic NY rap sounds seasoned with Nyck's wry sense of humor and incisive storytelling. The project is home to "How You Live It," a hard-hitting new single with an appearance from Nyck's Pro Era cohort Joey Bada$$, and the recently released "Product of My Environment" with fellow Brooklyn MC's Kota The Friend and Erick The Architect. Most recently, Nyck shared "December 24th" ft. Elbee Three, a poignant and soulful tribute to Nyck's late father, which earned coverage in Complex, HotNewHipHop, and more. Featuring further guest spots from GASHI, TheMind, CJ Fly, and more, Anywhere But Here arrives on January 15th via Pro Era Records/ADA Worldwide.
Born and raised in Brooklyn, Nyck Caution made a name for himself as a member of the Pro Era collective. Impressing with his crystal-clear bars and malleable flows, the 26-year-old rapper became a fixture of the NYC rap scene in the 2010s, appearing on projects by Joey Bada$$ (including the popular 1999), as well as Beast Coast's Escape From New York and A$AP Mob's Cozy Tapes Vol. 2. He connected with Pro Era producer/rapper Kirk Knight for Nyck @ Knight, generating tens of millions of streams on Spotify alone. This summer, Nyck showed a new side of himself with the Open Flame EP, which earned coverage in Complex, NME, HotNewHipHop, and more. The proper follow-up to his solo 2016 debut Disguise The Limit, Nyck is ready to establish himself as an artistic force with Anywhere But Here.
Buy/Stream "Bad Day" ft. Denzel Curry: https://proera.ffm.to/badday
Watch the visualizer for "Bad Day"  https://proera.ffm.to/baddayvideo
Pre-save Anywhere But Here: https://proera.ffm.to/anywherebuthere
© 2021, Seth Barmash. All rights reserved.