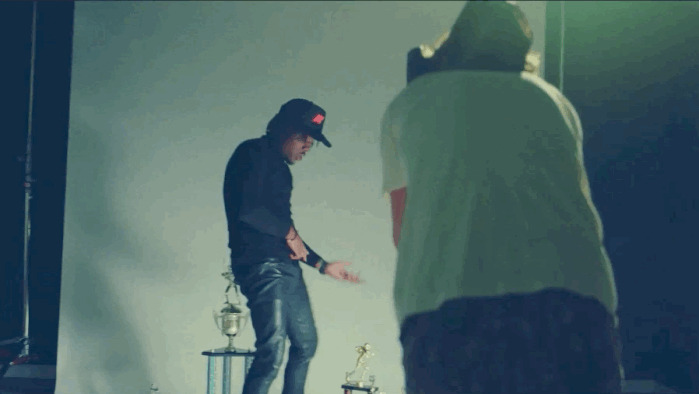 Tate Kobang is known in Baltimore and beyond for his ability to nimbly navigate a beat. Doing justice to a karaoke classic with his auto-tuned bars, Tate Kobang stunts at a photoshoot in "Stop The World," his latest video single. Sampling the 1985 masterpiece "Everybody Wants To Rule The World" by Tears ForFears–the track's producers, FaxOnly and BNYX® of WorkingOnDying, keep much of its rhythmic trickery intact–"Stop The World" finds the Rostrum Records signee in a romantic mood, as he skates atop the shuffle beat and declares his love for his woman: "For you baby, I will stop the world."
In the video, TateKo has the time of his life at a photoshoot, doing his dance with video vixens and showing off his trophy collection. Directed by Trent Munson, the video is a showcase of Tate's cheeky charisma, explaining why he's one of the most notable stars in the DMV rap scene. Released in May and praised by The Washington Post, who said the song "shows his playful spirit and willingness to try different forms" and "the hook's lullaby structure will make it nearly impossible to not have "Stop the World" planted in your mind during — and after — listening," "Stop The World' was Tate's first new solo song of the year, following "Pink M&Ms," a collaboration with fellow Baltimore native Lor Sosa.
Tate Kobang broke out in a big way in 2015 when he released "Bank Rolls (Remix)," a new version of Tim Trees' Baltimore classic "Bank Roll," named one of the best songs of the year by Pitchfork, NPR, and Pigeons & Planes. Since then, Tate has done his part to elevate the rap scene in his hometown and the greater DMV, following his muse into a variety of rap styles and collaborating with artists like K CAMP. He's established himself as a go-to producer, recently making the beat for "Fractions," a single from Nicki Minaj's recent album. Now signed to Rostrum Records, TateKo is looking to stop the world with his talent, and prepare for his imminent re-emergence as a major voice in rap today.
Watch "Stop The World": https://youtu.be/UfI8oHS5veo
Buy/Stream "Stop The World": http://smarturl.it/TateKoStopTheWorld
© 2021, Seth Barmash. All rights reserved.