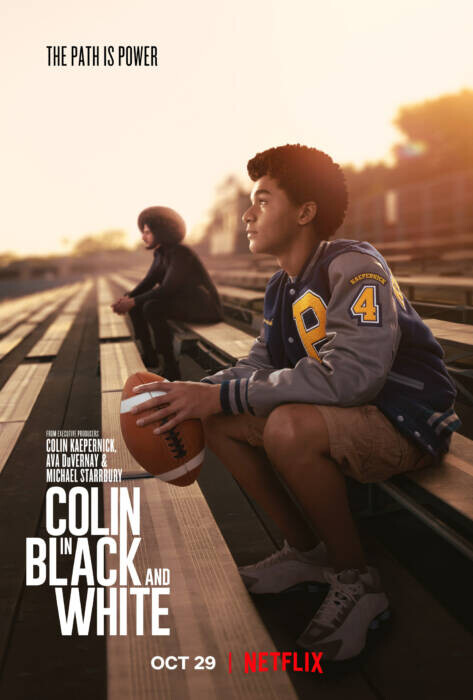 From co-creators Ava DuVernay and Colin Kaepernick comes Colin in Black and White, a bold new dramatic limited series that chronicles Kaepernick's coming of age story, tackling the obstacles of race, class and culture as the Black adopted child of a white family. Colin in Black and White stars Jaden Michael as Young Colin before reaching the highest levels of American football as an NFL quarterback and becoming a cultural icon and activist; Nick Offerman and Mary-Louise Parker as his well-meaning parents Rick and Teresa; and Colin Kaepernick himself, who appears as the present-day narrator of his own story, guiding viewers through a robust and colorfully presented array of historical and contemporary contextual moments. You don't know Kaepernick until you know Colin.
Ava DuVernay has become a trusted filmmaker and TV producer who people turn to to tell their truths, giving her subjects a platform to share their lives through captivating and inspiring storytelling. In 2017, DuVernay met activist and former NFL quarterback Colin Kaepernick, who had been propelled into the spotlight after advocating and protesting for social justice issues both on the field and off. The two teamed up for the new Netflix series Colin in Black and White, which tells his origin story through the lens of his formative years, showing how someone rises to greatness and what it takes to give up your dream to stand up for what you believe in. Check out the official trailer for the new drama above, and read more about the inspiration behind the series below.
How did this project come to life?
Colin Kaepernick: In high school, I faced a lot of different challenges from sports, to my family, and other parts of my personal life, which a lot of viewers may be able to relate to. But I also faced obstacles as a Black kid growing up in a white family in a white community. After meeting Ava DuVernay in 2017, I knew she was the right person to collaborate with. I shared my idea to create a series based on my high school years and she said, "Ok, Let's do it." And we started working together to bring these stories to life in the most impactful and compelling way possible.
Ava DuVernay:  Colin called me and shared that he wanted to tell the story of his childhood somehow. What interested me was the idea that, through his story, I could shed light on a core belief that I hold: that we can all be the hero, the lead character, of our own lives. It sounds simple, but it's a powerful idea. Are you the supporting character in your life? Taking cues from others? Your story only mattering when it's tangential to someone else? Or is your story centered within you? Your hopes and dreams and priorities and beliefs planted in the forefront, not the background. Bottom line, I was interested in the process of becoming the star of your own life. This doesn't mean not being of service to others or being selfish and ego-driven. It means having the confidence to stand up and stand strong for oneself so that you can be the best version of yourself. Through Colin's story, the team and I were able to explore this idea in ways that we hope will resonate with the audience.
What was important to you when you were crafting this story?
Kaepernick: Colin in Black and White is a scripted limited series inspired by my experience as a Black child, adopted by a white family. I did not have a lot of references or guides growing up to help me navigate some of the negative experiences or interactions I went through as a young Black kid. When we were thinking about telling this story, we wanted to explore that idea more and give people references of how these situations can impact and shape one's identity and growth.
DuVernay: It was vitally important to me that this wasn't another autobiographical series about a famous person as a child. No disrespect to those shows, but it's been done – and done well. I was interested in pushing a bit further into this storytelling trope. It was about challenging the process to determine how we could expand the core of a young person's path to power into a story that can appeal widely and personally to others. The goal was to take the kernel of the idea and make it mean something to viewers whether they're watching in Detroit or Dubai, Shreveport or Senegal. This is how the idea of weaving cultural and historical context with the young person's story came to my mind. This is how I approached the story construction as Michael Starrbury and his stellar writing team went to draft the ideas. The aim always was to allow Colin's story to catapult viewers into a broader understanding of their own journey alongside the various histories and cultural legacies that each of our lives is impacted by.
What do you hope people take away from the series?
Kaepernick: This was an opportunity to open a window into experiences inspired by my high school years. I want Black and Brown kids and their communities to find guidance in how we can combat racism and oppressive systems. I hope someone can see that they too can come out on the other side and be able to say, "I faced those struggles. I've worked through them, and I was able to be successful and come out the other end, keeping my dignity and my identity intact."
DuVernay:  I hope people feel compelled to examine their own origin story. How did I get here? What things happened – small and large, remembered and forgotten – that led me to this place now? This series is about deciding for yourself what your life and legacy will be. It's about self-determination, self-propulsion, not waiting for permission, not waiting for everyone to agree, tapping into the voice inside of you and letting that spur you forward. And it's about knowing that within your individual story, you are also a part of something larger. My highest hope is that some viewers will walk away with some of these thoughts and questions.
Kaepernick: This is a journey. You are always growing, always evolving. And we want to welcome everyone into that process.
DuVernay: And we want to remind people to honor oneself. Because if you're still standing, and you've experienced any of these challenges, then you are on your path. Keep taking your steps. One after another, after another. Because there is glory in your steps. Again, THERE IS GLORY IN THE STEPS. You are the hero of your own story. Remember that.
Colin in Black and White debuts Oct. 29 on Netflix.
© 2021, Seth "Digital Crates" Barmash. All rights reserved.