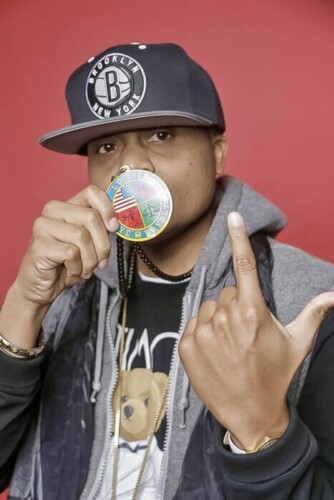 Born to the same borough as hip hop itself, Arthur Borders (AKA losLAUREN 718) was a Bronx-born kid you could find battle rapping or freestyling in the park or at Crown Fried Chicken. Whether he knew it at the time or not, the hours he spent at the park or the chicken spot flapping his gums and spittin' flows to his friends would serve him well down the road in his musical journey.
Popularly known in the music world as losLAUREN 718, he will tell you through and through that he is a member of the Parkchester community. For the elders, peers and the youth in his neighborhood, he is a positive influence that oozes ambition to anybody in the area. The name of his imprint, Allergic to Failure, LLC, is exactly what he's about—his goal is to inspire and inform others of his mistakes in their own pursuits of avoiding certain pitfalls in life. He cites his desire to influence people and his drive to live autonomously as the fuel to his car.
LosLAUREN 718 told us how much he loves to travel and the importance it can bring to an artist's development. He recently returned to the US after shooting a music video in Egypt for his single "Gelato 2".
When asked about who he typically works with, losLauren 718 spoke of his openness to work with anyone if they can conduct themselves professionally. He specifically mentions the instrumentation work of DeeJay Quality, Alex Chaney, Serious Beats, QB Da Problem, and Skev Beats as crucial ingredients to the recipe for his songs and shouts out Alexander Wright for his assistance in creating his artwork. Additionally, he thanks the people at 360 Music, Goldie Sounds and Patchwork for providing space for him to record his music. Set a reminder for September 9th to check out losLauren 718's new EP JABS and be sure to follow his rise to the top on Instagram, Spotify and YouTube.
© 2022, Eros Entertainment. All rights reserved.