The City of Atlanta welcomed the 1st R&B Soul Picnic Festival to the largest and most popular park in Atlanta, at the Promenade in Piedmont Park on April 2nd and April 3rd.  As a response to troubling times amid post-pandemic society, the R&B Soul Picnic will be an all-day soul healing experience where the Atlanta community will be promoting mental health awareness and celebrating R&B music. To boost morale and celebrate a new life norm, Jacob York (Co-Founder of R&B Soul Picnic) and Ais York (Co-Founder of R&B Soul Picnic) will introduce the inaugural R&B Soul Picnic, a two-day music and lifestyle festival in Atlanta, GA. The all-day outdoor concert will feature live performances by exceptional Grammy award-winning talent all weekend long including Jermaine Dupri (Grammy Award Winning Producer), Dallas Austin (Grammy Award Winning Producer), DJ Baby Yu (Young Jeezy's Official DJ), DJ Trauma (Dave Chapelle's Official DJ), DJ Mars (Monica's Official DJ), DJ SNS & more prominent R&B, House, Afrobeat, Soul & open format DJs. This event was created to pay homage to the Dj's who are huge staples in the music culture & community as well as provide a healthy outlet for guests to get the healing they need; whether that be musical, spiritual, and/or emotional.
"We've all had a bad couple of years surviving this pandemic. We lost loved ones and hope in the process. Our souls need some healing, what better way to heal our souls than some good ole R&B music, I mean music period," said Jermaine Dupri.
In the park, thousands of R&B Soul Picnic attendees will enjoy nationally and internationally renowned DJs, along with surprise guest performances, vending from local businesses, VIP tents, and charging stations. This event will serve as a safe space where attendees are encouraged to bring coolers, blankets, yoga mats, and lawn chairs. Attendees will also have the opportunity to visit a special "Soul Healing Center" activation that will include access to wellness resources including 6-10 Minute Therapy Chats with certified mental health professionals, homeless prevention, substance abuse, suicide prevention, reiki, yoga, and more. One of the founders of the R&B Soul Picnic, Jacob York, is beaming with excitement about this event coming altogether.
"This is a weekend to forget all your worries and troubles and come out, dance, and love being a part of a community again," stated Jacob York (Co-Founder of R&B Soul Picnic). York continues, "We wanted to build an inclusive festival where we can all escape and enjoy one another's energy with a whole lot of amazing music. All are welcome with open hearts and open minds. Can't wait to see you there."
The inaugural R&B Soul Picnic will be an opportunity to celebrate the official coming of the spring in Atlanta as we evolve away from social distancing, wearing masks and avoiding each other just in time for the leaves and flowers to bloom in a rebirth of sorts in the City of Atlanta.  This event will be a reunion for friends and family coming to Atlanta from all across the country as well as friends, college classmates etc that haven't seen each other since the pandemic.
The R&B Soul Picnic will feature a lineup of world-renowned DJs and GRAMMY® Award-winning legends spinning neo, progressive, old, and new soul, giving the event an impeccable soundtrack.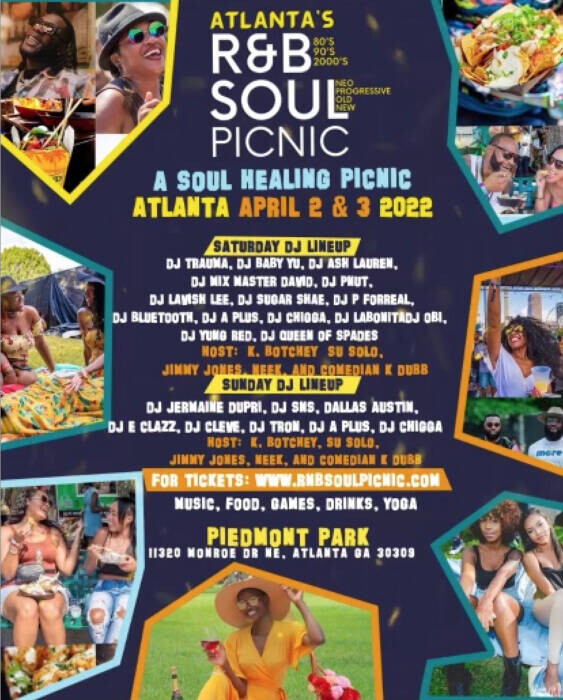 © 2022, Seth "Digital Crates" Barmash. All rights reserved.