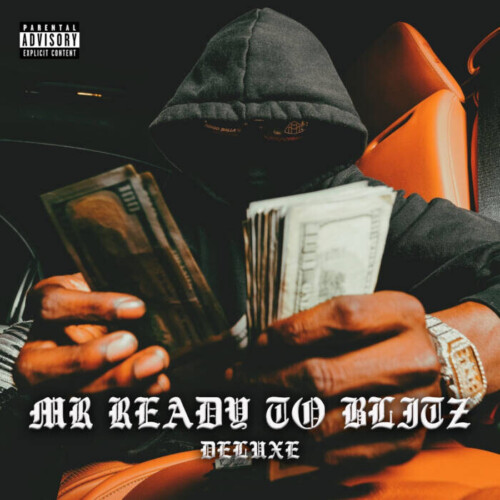 Flooding the pocket with tireless intensity and a natural gift for disruption, Kenzo Balla approaches his music with a motive for mayhem. Today, the Bronx bruiser shares Mr. Ready to Blitz (Deluxe), adding five new tracks to the expansive effort, featuring production from Frank Beats, iamTash, and more, as well as an appearance from 41 crew standout Kyle Richh on the deluxe's video single, "PSA."
On the deluxe version of Mr. Ready to Blitz, first released in November, Kenzo furthers the scope of his sound. Kicking off with his signature full-throated shout on the opening track, "Losing Control Pt. 2," Kenzo rides the pitched up vocal melodies of Frank Beats' production as he vents his fears and frustrations with a hardened perspective. On cuts like "PSA" and "Rock and Roll," Kenzo barks his bars over distorted electric guitar loops that highlight the parallels between explosive subgenres like Kenzo's brand of drill and hardcore punk or metal.
Home to singles like the high-octane "Krash Out," and the Cito Blick and Pdot Savv-assisted "Don't Panic," Kenzo's impactful performance on Mr. Ready to Blitz lived up to its title. On "Feel The Rage," Kenzo bursts onto an endearingly melancholic drill instrumental with the headstrong momentum of a mammoth nose tackle like Vince Wilfork, while more fast-paced cuts like the Nas EBK-featured "SMMBF" highlight Kenzo's elusive agility as he flashes through instrumental pockets like Troy Polamalu. Like all the most elite defensive rushers in the game, Kenzo's strength lies in his opponent's inability to contain him– in the split second it takes to register his arrival on the track, he puts himself 10 steps ahead.
A rising name in one of the nation's busiest rap scenes, Kenzo Balla made his mark on the scene with his relentless rhymes and high-energy vocals. Known for collaborating with fellow Bronx heavyweights like his brother TG Crippy, Kenzo kicked off his career with a frenzy of fiery videos, including local hits like "5th To Sev" ft. TG Crippy & Pdot Sav (2 million video views), "OOTAZ," and the "Love Nwantiti"-remixing "Let Me Know" (1.9 million views). This summer, the former AAU baller tore up the streets with "Dead Gzz," a vicious, uptempo missive that racked up over 1.4 million video views since its release in June.
Now signed to 10K Projects, Kenzo Balla emerges from his perch in the Bronx to blitz the rap game. Sit back and watch his rise, because there's no stopping it.
© 2022, Seth "Digital Crates" Barmash. All rights reserved.