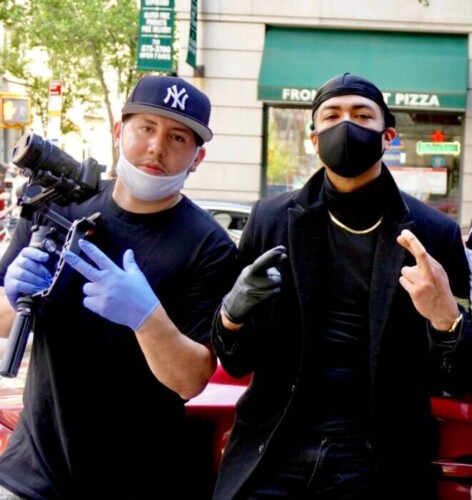 December 2022 – ReachingNOVA has been on a roll, releasing a wave of great music as well as collaborating with other excellent artists at the forefront of the hip-hop community. Recently, his music has received many accolades, including a sought-after Viddy Award for "In These Times," produced by Manny Manhattan.
As the title suggests, the song is actually incredibly easy to relate to. With iconic lines such as "media has people confused," the song is a commentary on the pitfalls of societal pressure and all the corruptions and shady dealings that are going on in the back rooms of the rich and the powerful. Interestingly this video is actually the only piece of visual media that shows the artist wearing a mask. This is because ReachingNOVA wanted to have a specific visual represent the timeframe of the pandemic experience.
The video showcases the artist rapping in some unique urban locations, and the color editing lends an even more interesting and unique approach. The color grading in the trees embraced shades of purple, while the graffiti and other urban textures really stand out visually, offering a perfect backdrop to ReachingNOVA's exceptional track. The beat has a unique vibe, as it combines trap influences with old-school hip-hop in a seamless way.
In the words of the artist himself, "I think we'd all agree about the times that we're living in." Things might be crazy, but artists like ReachingNOVA are here to bring some edge and a new perspective to their audience. In addition, the production of the beat is absolutely on-point, with energy and melody in equal parts. The collaboration with Geo The Architect goes beyond the latter being a mixing engineer and recording the song, he actually filmed and edited the video, is really on point. This clip proves that these two talents have developed perfect synergy when working together on a project. "In These Times" captures the sharp edge of hip-hop, reminding the world that this is more than just a musical genre: it's a way to express views and deal with the world in a much more incisive way. Where most people stay silent, rap artists like ReachingNOVA aren't afraid to get out there and tell it like it is.
The lyrical flow is genuine and personal, and the artist has taken the opportunity to showcase his personality and roots with an amazing music video, created with the help of Geo The Architect.
Find out more and check out "In These Times."
https://www.youtube.com/watch?v=74q1QgxCd68
https://www.instagram.com/reachingnova
https://www.instagram.com/geo_the_architect
© 2022, Tedfuel. All rights reserved.