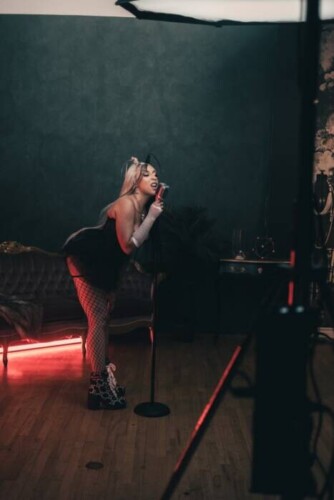 Embodying elements of Rap, and Hyper pop, NINA JVNE and Yung Tory go back and forth on a lyrical tug-of-war displaying high energy, multiple flows, and wittiness. NINA JVNE's new single titled TRAPPIN is about an unapologetic lifestyle that anyone goal oriented can resonate with. The song empowers the thoughts of self-worth and independence, not caring about what others think and to just keep pushing through. The track was engineered at Abstract Studios by Ante O'Conner, Derek Kavanagh and Ioanna Al-Kayed.
A music video will  shortly accompany the single, shot by Chrarlton Visuals and directed by Ioanna Al-Kayed, they take you on journey with a fun, fantastical twist to a dark/punk trap fairy-tale. Think Ella enchanted and Bridgerton vibes.
NINA JVNE's unique style and versatility in her music stems from her heart-felt life experiences. Driven to never give up and accept life and people that are brought into it with open arms, NINA JVNE gives her music to her listeners as inspiration and motivation to be the best version of yourself. She captures her real live emotions and experiences through her music and allows her listeners to be a part of her journey of life.
"TRAPPIN" is available on all digital streaming platforms. Follow @ninajvne on Instagram to keep up with all her upcoming releases.
Listen to the song here: TRAPPIN
Follow NINA JVNE on instagram
Follow Yung Tory on instagram
© 2022, Catherine Higgin. All rights reserved.