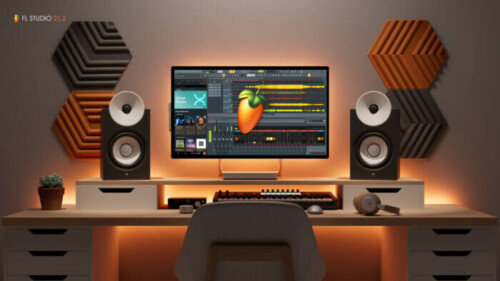 Image-Line is best known for its groundbreaking products, FL Studio and FL Studio Mobile, which have redefined music production for artists worldwide. Along with its flagship offering and the new FL Cloud, Image-Line Group includes a dynamic portfolio of music tech companies: UVI, Melda Production, W.A. Production, and Producer Loops. All are united by a shared passion for pushing the boundaries of creativity and technology. The group's mission is to help every music creator make and share their best music by providing them with everything they need for the most fun and productive experience – from the first inspiration to sharing their music with the world. www.image-line.com
​FL Studio is one of the world's most popular Digital Audio Workstations (DAW), having been at the forefront of computer music production for 25 years. FL Studio is known for its intuitive user interface, affordability, powerful features, and Lifetime Free Updates commitment, making it a favorite for millions of beginners and professional musicians alike.  www.image-line.com/fl-studio
Image-Line launched a major FL Studio 21.2 update, introducing powerful new features which let music producers stay on task and in the creative flow. This latest update introduces FL Cloud, a new service built specifically for FL Studio. Deeply integrated within the DAW, FL Cloud provides producers with a massive and ever-growing library of royalty-free loops and one-shots, unlimited AI-powered mastering, and unlimited music distribution to all major digital streaming platforms via an exclusive partnership with the world's biggest distributor, DistroKid. In addition, FL Studio 21.2 adds the highly anticipated Stem Separation feature, allowing producers to extract individual drum, instrument, bass, and vocal tracks from any audio source, from directly within FL Studio. The new Kepler vintage synthesizer and an enhanced colored waveform feature complement this new update.
FL Studio 21.2 is available from today as a free update for existing FL Studio customers, as part of Image-Line's Lifetime Free Updates policy. FL Cloud includes free features for all FL Studio users, with additional features available through subscription. Subscribers can choose between paying $7.99 monthly or $79.99 annually, for a saving of two months per year. Additionally, for a limited time, Image-Line is offering an introductory annual subscription price of $49.99. Any new or existing FL Studio user will also receive a free one-month FL Cloud Trial subscription, with no restrictions or commitment, and no credit card required. All FL Cloud users can also buy Credit Packs for subscription-free access to sounds not available as part of the free FL Cloud features, such as Artist Packs.
"FL Studio is the central music production platform for millions of music makers. With the introduction of FL Cloud we want to provide them with everything they need to create and share their music, all deeply integrated into the beloved FL Studio workflow," says Constantin Koehncke, CEO of Image-Line. "Our mission is to make music production accessible, productive, and fun, and we will continue to add tools and features to help our users achieve their creative goals. Importantly, cloud-based features do not affect our core promise of outright purchase of FL Studio with Lifetime Free Updates or our commitment to providing new features to FL Studio itself. With FL Cloud, all users benefit from free features, a generous introductory offer, and extremely competitive pricing."
"We are always looking for new ways to make it easier for artists to release their music," notes Matthew Ogle, Chief Product Officer at DistroKid. "Having DistroKid integrated into artists' workflow within FL Studio, and giving them the option to upload music to streaming services directly from their DAW, provides the kind of seamless experience that we always strive for at DistroKid."
Since its launch in 1998, music producers and artists have gravitated to FL Studio for its unique workflow and user-friendly interface. Today, FL Studio is one of the world's most popular and used DAWs, with many of the most successful and influential producers and artists using the platform to create culture-defining music across the world's most innovative genres – from EDM and hip hop to Latin and Afrobeat. FL Studio is downloaded over 30,000 times per day, and 50% of its millions of users are under the age of 20, representing the future of music.
FL Cloud offers access to sounds, mastering, and distribution, packaged together in one affordable subscription, conveniently integrated into FL Studio. Users can download sounds from a vast sample library, right inside FL Studio's familiar browser. They can browse for inspiration or search for any specific sound they need using smart filters for instrument type, BPM, key, and more. FL Cloud subscribers benefit from full access to sounds, allowing them to concentrate on making music, not on how many credits they have to spend each month. As with the total in-DAW integration, this ensures producers stay completely in the creative flow at all times. To ensure an equitable experience for all users, subscribers may experience a slowdown of the service if they exceed fair and reasonable usage in comparison to the majority of other users. And, as part of Image-Line's commitment to accommodate all workflows, for those who prefer not to subscribe, Credit Packs can be bought and used to buy any sample in the library, including from Artist Packs.
FL Cloud launches with thousands of sample packs and curated Collections, across a variety of genres. In addition, FL Studio has partnered with some of its most popular Power Users, offering their signature sounds for download. The launch includes Artist Packs from some of the biggest and most successful FL Studio music producers, including 9th Wonder, Murda Beatz, Slushii, K-391, Alex Lustig, and nuphory, with new Artist Packs and curated Collections arriving monthly. "My whole life changed when I downloaded FL Studio on my parents' desktop and started making beats, so the fact that my sounds will be on there for other creators to use is a really cool full-circle moment for me," says Murda Beatz.
While browsing for sounds, FL Cloud users benefit from the deep integration within FL Studio. They are able to audition tempo-matched samples right inside their projects, re-tune them to match the key of their song, and easily send or drag-and-drop them into other windows, instruments, and editors inside FL Studio. FL Cloud also augments the local browser, displaying additional online search results when searching for local files. Once a user downloads a sound, it remains available to re-download at any time, even if a user's subscription ends. Once creators have completed their tracks, they can apply FL Cloud's new, AI-powered mastering without ever leaving FL Studio. Available in seconds, masters can be tailored using a range of presets for all major genres, with selectable loudness-optimization for all major streaming platforms.
In an exclusive partnership with the world's biggest distributor, DistroKid, FL Cloud introduces music distribution. As part of FL Cloud, subscribers get access to DistroKid's Musician plan, which allows for unlimited releases across all major streaming platforms, and lets producers keep 100% of their royalties. An overview of FL Cloud and sign-up details can be found at www.image-line.com/fl-cloud.
In addition to FL Cloud, FL Studio 21.2 introduces Stem Separation. Producers can extract drums, bass, instruments, and vocals from any audio track. Separated stems are automatically arranged below the parent Audio Clip. From there, they can be muted, edited, processed, and manipulated. The new Kepler instrument is a meticulous recreation of an iconic analog synthesizer from the 80s. Very careful attention was paid to analyzing the oscillators, filters, and interaction of the controls, to make a sound that does justice to the original classic.
Music creation and audio is getting integrated into everything, but it's not the simplest DAWs that are powering music creation. FL Studio surveyed almost 7K of their users and found that 66% of them were 25 or younger. 24.9% were 15 or younger. FL Studio's hashtag on TikTok has over 4.6B views as of today, Bandlab has 2.3B, and Ableton has 1.2B. FL Studio's community is like no other– a community that learns from each other.
People think that simpler tools allow for greater adoption, but these statistics are showing that users are hungry and willing to learn more complex tools to make music.
The update also enhances the colored waveform feature, introduced in FL Studio 21.1, now allowing users to customize the relationship between audio frequency and waveform color, to better visualize details in their audio. FL Studio 21.2 delivers the most sought-after feature for FL Studio Fruity Edition – Audio Clips, also ensuring that Fruity Edition owners can take advantage of FL Cloud's loops & one-shots. Every FL Studio Fruity Edition owner can now add up to eight different Audio Clips for use in their arrangements. This allows them to add vocals and riffs, and create audio chops and track edits. FL Studio 21.2 is a free update for all existing FL Studio customers, and can be downloaded from www.image-line.com.
© 2023, Seth "Digital Crates" Barmash. All rights reserved.