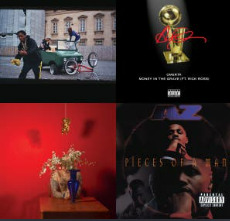 Guest Post By Jamey "Numoon" Roberti
https://linktr.ee/jameylovesmusic
Great chemistry is essential to a fire collaboration between rappers. The culture loves to see two rappers who are not in a group come together for duets in between working on their successful solo careers. The songs always come out either fun, powerful, super lyrical, or all the above. There is no tension or stress from ongoing group dynamics such as business, competition, or the debate of who is the alpha leader. Listeners can simply enjoy artists with unique friendships who provide prime material and complement each other.
Jay-Z and Memphis Bleek's track "Coming of Age" displays their relationship as mentor and mentee from an early point in both of their careers. In the song Bleek was 16, receiving game from Jay on everything from street life to dealing with incoming fame. They also trade off with a bar-for-bar flow, going back and forth in a similar fashion to many classics by Jadakiss and Styles P.
Another duo that pairs well is Philly natives Freeway and Beanie Sigel. Like the last two pairs, Free and Beans are individuals on the same record label with a great solo career. On "Roc the Mic", Free and Beans bring the street energy to the club in a late-2000's Philly classic song. They complement each other well with Freeway having a gruff, gravelly voice and Beans having a smoother, bass-filled voice.
The rumored collaboration projects that never come to fruition leave fans longing for more. Rick Ross and Drake were having so much success with their collaborations in the early 2010's that they were rumored to be making an album together titled YOLO. Unfortunately we never got this album, but you can see their chemistry on tracks such as "Money in the Grave". Fans experienced the same disappointment with collaborators Freddie Gibbs and Benny the Butcher.The two brought braggadocious, wordplay-filled flows on songs like "One Way Flight", but unfortunately had a falling out that lead to no further collaborations being likely.
Listeners will experience a bittersweet feeling listening to "Gees" by the late Mac Miller and Schoolboy Q. A fun collaboration with a quintessential blog-era beat, this song highlights two emcees who had a solid friendship on and off the mic. The album Dum and dummer captures the brotherhood of Key Glock and the late Young Dolph, exhibiting two smooth rappers with heavy, intense voices that meld better than most rappers with similar qualities. One cannot discuss these groups without also giving flowers to Lil Durk and the late King Von, who captured the danger and temptation of the Chicago streets with songs such as "Like that". May their memories be a blessing.
Listen to Jamey's "Rap Buddies" playlist after the jump!
© 2023, Seth "Digital Crates" Barmash. All rights reserved.