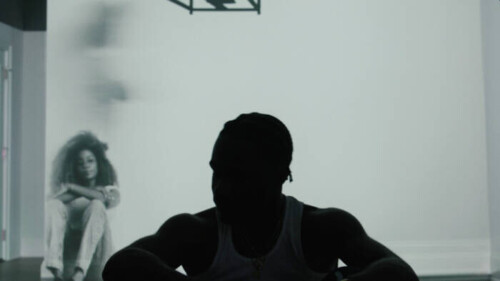 Reuben Vincent releases a new video for one of the standouts tracks, "Feb. 13th," from his recently-released Jamla/Roc Nation debut album Love Is War.
With "Feb. 13th" Reuben and fellow Jamla/Roc Nation star, Rapsody, take a deep dive into the Love Is War theology and dissect the complexities of relationships/sitautionships, and love on "Black Love Day," a day created to demonstrate love, forgiveness and acceptance among black people. 
"Feb. 13th is a record that's full of pure emotion. Ironically, I found out it was celebrated as "Black Love Day," but this song was made to tackle the ups and downs of relationships, and the wrongs that come with it" Reuben Vincent opines.  "It was the day before Valentine's Day so we wanted to make this the break up song. Everyone who is a part of this record experienced real emotions to get to this point."
"The making of both the song and video was a very organic experience. Myself, and Reuben were staying with Young Guru in LA during the pandemic; waking up talking, learning together, having life conversations" Rapsody offers.  "We all put our experiences in the music, and we all poured into the idea of the visual in the same way. Guru had the initial concept, I was on Pinterest finding inspiration for how to execute it, Reuben was throwing in scene ideas. It was how creating in a village is suppose to look, that's how it all came together so well."
There is no question Reuben Vincent is destined for greatness.  The young elite lyricist and producer has spent the last few years honing his artistry under the tutelage of Hip-Hop greats 9th Wonder and Young Guru and standing out every step of the way.
Reuben's Jamla/Roc Nation debut album, Love Is War, is a conceptual, yet subtly constructed project that will place him at the forefront of debates about the new rap greats.  Unpacking relationships and romantic entanglements over warm, soulful beats from 9th Wonder, Young Guru, The Soul Council and his own production, whose collective work both modernizes and morphs boom-bap.  With polished and varied flows, Reuben weighs the time spent on love against the hours necessary to pursue his art and dreams.  Love Is War also features guest appearances from Rapsody, Reason (TDE), Domani and Stacey Barthe.
Conceptually, Love Is War is an acknowledgement that as young black men I feel like we aren't taught, and given the tools of how to love properly. We don't know how to love our people, our women, our brothers; and most importantly ourselves" Reuben professes.  "When you don't know how to love yourself you can't love others the right way, Love Is War addresses that.  These last two-years I've learned a lot about myself, but I still have much to learn.  My goal is to love myself properly, and that comes with exploration (internally and externally).  That is why I titled the album, Love Is War, because it is a constant battle to get to that center in your life.  We all battle ourselves to get to a place where we can both love and be loved."
Conversely, Reuben wouldn't be here without both love and war.  While the accolades will surely follow, for now, he's focused on being an example to his peers and especially representing first generation Liberian Americans, as Reuben's parents fled Liberia during the country's first civil war and settled in Charlotte.
On record and in his everyday life, Reuben's aim is to prove you can be brilliant without sacrificing your swagger.  After all, being a dedicated student of your craft and yourself is how you win the war!
Reuben Vincent's Love Is War is now available at all DSP's via Jamla/Roc Nation Records.
© 2023, Seth "Digital Crates" Barmash. All rights reserved.