iLoveMakonnen's name has been circulating for more reasons than just his hit single, 'Tuesday'. Last month, he distastefully took to twitter to throw shots at all of the artists who remixed his song. Troy Ave was amongst those artists who he subliminally took a jab at, but he wasn't too shy on firing back at him.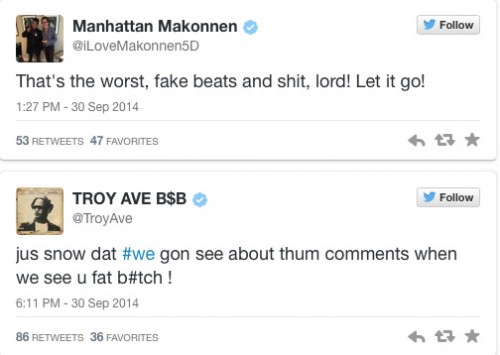 The OVO Sound rapper performed at the SOBs this week for their newcomer's show & during his performance of 'Tuesday' he was pulled to the ground by an audience member & punched in the head. Ironically, this took place on a Tuesday..
Rumors are floating around that Troy Ave was the one that threw the blow, but his manager, Hovain Hylton claims that the B$B Records CEO had NOTHING to do with that incident; he interviewed with thestashed.com to kill that noise immediatly.
"I left all of that negative shit alone. [We] were trying to get him on a remix of 'All About The Money.. It's just wack that any time something negative happens now, they think of us.. People are going to believe what they will, but BSB had nothing to do with that"
He also said that he spoke with Drake & October's Very Own to prevent any type of animosity from surfacing weeks ago.
With that being said, let's all just get money & be great.. how about that?
© 2014, Niyah Nel. All rights reserved.