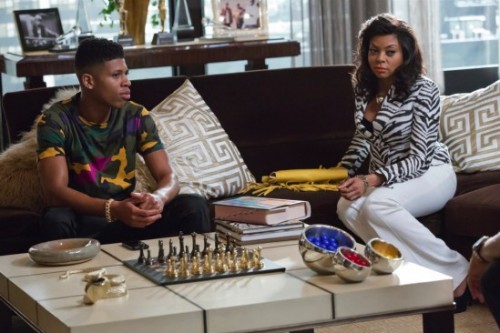 In the game of thrones, Lucious Lyons is going hard to make sure he remains the king. Last night's episode of Empire was nothing more than a game of tit-for-tat between Lucious & Cookie Lyons and their record labels. After Lucious's newly acquired lawyer pulled a few unorthodox strings to get him released from prison at his bail hearing, you already know he went straight back to the Empire.. Well, as much as he could, that is.
The courts made it very clear that if Lucious went back into Empire's corporate office, he would immediately be arrested due to the fact that his employees have to be interviewed in reference to his ongoing murder case. Even still, he still managed to get back to business & his first order was to sign the daughter of Frank Gathers. Jamal wasn't able to make that happen himself as the man in charge, so Lucious went down to the ghetto himself & made Freda an offer just before she was about to pull out her gun & shoot her lyrical sparring opponent for disrespecting her father in his rhymes.
Despite the battle going on in the family, Lucious is still a family man who believes in putting family first. After hearing about Cookie & Hakeem's plans, he called everyone to dinner basically to give them a chance to put an end to 'The Lyons Dynasty' & come back to the Empire, but of course Cookie declined. Because of this, Lucious is forced to get down & dirty to ensure their downfall. He met with Anika to try to get her to conspire against Cookie, but little did he know, Anika conspired against him. During his welcome home party where Jamal & Pitbull performed their recent collaboration, Cookie & Hakeem bombed it with a song of their own. During Hakeems performance, he bought out Timbaland to set it off.
Sway appeared on this episode serving as the radio fuel to the fire by hyping up the party crashing performance Hakeem put on & bringing light to The Lyons Dynasty. While Hakeem appeared on the show, he introduced the group he was putting together and assured Sway he would bring them to the show, against Cookie's wishes. Even though he made a bad business move, it put them to work on getting his girl group off that ground. ASAP.
Andre is still very persistent in trying to get back into The Empire even with Lucious being very adamant on not letting him. He proposed that Lucious buy out Apex media, which controls 200 radio networks across the country, including the station Sway hosted his show on. That move put an end to the momentum The Lyons Dynasty built. Lucious turned the tables, peeped Cookie & Hakeem's plan, & signed the lead artist in their girl group. BOOM! Back to the drawing board Lyon cubs..
Wonder what next week has in store for us. After all, you can't keep Cookie down, baby..
© 2015, Niyah Nel. All rights reserved.