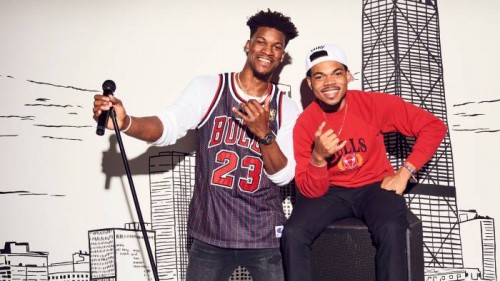 The connection between athletes and rappers has been one that can be traced back for decades. From the days of Muhammad Ali using his athletic platform to display his lyrical poetic talents, to Deion Sanders letting us know it "Must Be The Money", music and sports biggest and brightest stars have always been linked in more ways then one.
In today's sports and entertainment worlds, athletes and rappers have more in common than ever. From lavish lifestyles, to performing in the biggest venues in the world, the lights, camera and action bring the two worlds together. Recently, ESPN's The Undefeated's Justin Tinsley sat down with two of today's biggest stars Chicago native/ Grammy winning rapper Chance the Rapper and the face of the Chicago Bulls, NBA all star Jimmy Butler to explore their world's and address an array of topics.
Via ESPN: 
TINSLEY: What is it about sports and music, specifically basketball and hip-hop, that's always brought them together?
CHANCE: To me, I feel like basketball and hip-hop have always been kinda conjoined because they're very similar in their competitive nature, you know what I'm sayin'? It's about technical skill, and then there's just God-given talent.
BUTLER: I think it has a lot to do with the competitive nature of everything and the respect that you have for somebody else's craft. You always want to see if you can really do what they do on a daily basis. It's not always as easy as it looks or sounds.
TINSLEY: Jimmy, now that you're the face of the franchise, how is dealing with team turmoil through the media different than in your rookie year?
BUTLER: A lot of it falls on my shoulders. So the camera, the microphone, it's always on me at all times. Everything you say now is always going to be blown out of proportion because you're supposed to be the face of the franchise. You're supposed to be the reason they win. You're supposed to be the reason you lose. It really gets confusin', the fact that it's a team game. With that being said, I take it, I love it, because I think that only makes me better.
TINSLEY: Whether you like it or not, you two are the new faces of Chicago. What's that responsibility like?
BUTLER: It's cool because every morning, you just have to continue to be who you are, do what you did to get you to this point. That's the way I look at it. And in this city, that's all anybody ever asks of you is to work hard. When you bring that, they love you.
CHANCE: I don't know how Jimmy does it 'cause he's not from here, but that's a lot of weight, right? Just carrying, like, the reality of it, the aggression and, like you said, the hardworking attitude. But also being a person of influence in a city that's so small, it's so communal, everybody knows each other here. I was raised here, and it's been kind of a fishbowl thing—I've swam around a bunch of times. But I feel very comfortable, and it's good to still live here.
ESPN The Magazine's upcoming Entertainment Issue hits newsstands the Friday (2-17-17). Photos used were shot by Eric Ray Davidson/ESPN and ESPN The MagazineStay tuned to HHS1987. Follow @eldorado2452 on Twitter and Instagram for all your music and sports and entertainment news.
© 2017, Eldorado2452. All rights reserved.