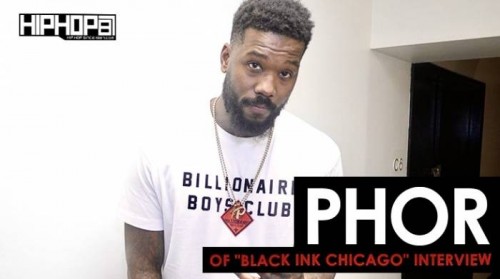 VH1's "Black Ink" reality show started a few years ago in New York with Ceaser and his team. The show was a huge success, that VH1 decided to expand to Chicago. "Black Ink Chicago" is based out of a shop called "9 Mag" and features an entertaining cast that are more like a family than a group of co-workers.
One of the standout members of the show is a tattoo artist named Phor. Phor is known for doing amazing tattoo work but also has become known for his musical talent too. Recently, HipHopSince1987's own Rick Dange linked up with Phor in Philadelphia where Phor was recording with an up and coming artists from Philly named Drama (Checkout his music on HipHopSince1987). Phor did an exclusive interview with Rick Dange and covered a lot of topics that fans of the show and of Phor were eager to hear about.
Phor broke down how hard it's been to balance being a reality star as well as an up and coming rapper. Last year Phor dropped a project called "Lightening Bug" which has received great responses and he currently has a record called "Do It" that's heating up radio stations around the country. Phor is planning on dropping a new project potentially on Valentines Day that he says is sure to please his female fans as well as the fellas.
In the interview, Phor talks about the sacrifices he's had to make for his family and how hard it is to make it out of Chicago. Of course Rick Dange had to ask him about the upcoming season of "Black Ink Chicago" as well as some of the beefs we've seen unravel on the show between himself and Kat, a female tattoo artist from the shop that Phor was in a relationship with. Phor also breaks down how the show actually was put together and how "real" the reality show really is.
Checkout this exclusive interview below NOW!
This interview was shot & edited by HHS1987's own Rick Dange.
Follow Us on Instagram/Twitter at:
@PhorEverIm
@HipHopSince1987
@RickDange
© 2017, RickDange. All rights reserved.