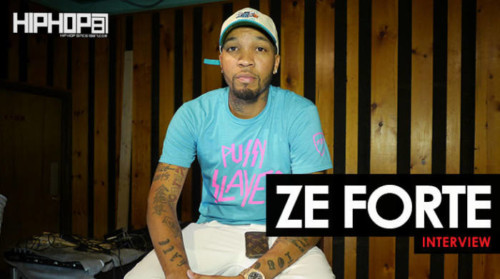 Trenton New Jersey has always had a reputation as being a hard place to make it out of. Weather you play sports, do music, or just try to simply better yourself, Trenton has always had a lot of roadblocks. One artist that has been able to defy the odds and is determined to put Trenton on his back and change the music industry is Ze Forte.
This week, HipHopSince1987's own Rick Dange linked up with Ze Forte at E.R. studios in Philadelphia for an exclusive interview. Ze Forte talked about his life growing up in Trenton and how he ended up currently living in Atlanta. He spoke about his past record deal with Legendary basketball player Shaquille O'Neal and how they linked up, aswell as how he ended up in the studio with Mase of Bad Boy records. Ze Forte is not only an artist, he is also a ghost writer with numerous credits, and he spoke about his own game aswell. Ze Forte also broke down his upcoming project "Found My Gift" Which drops on October 12th and discussed his current single off the project "Millionaire" and much much more!!
Checkout this exclusive interview NOW and get to know rising star Ze Forte!!
This interview was shot and edited by Rick Dange.
© 2018, RickDange. All rights reserved.