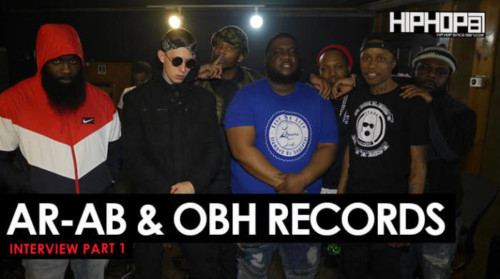 Philly's Top Goon, AR-AB, has an amazing 2017 and has continued his run going into 2018. One of AB's main focuses for this year has been to get all his business right and to really start pushing his label OBH Records. Recently HipHopSince1987's own Rick Dange linked up with AR-AB and the roster of artists that are currently on OBH Records for an exclusive multi-part interview and blog.
In Part one of this interview, AR-AB talks about wanting to step more into an executive roll now that he has a great roster of artists. AR-AB introduces the world to each of the artists that he is focused on promoting right now and speaks about how he met each of the artists. The artists that are featured in this interview and that AR-AB is focused on promoting now are Lil Johnnie, Skinny Me, NoBrakes Bras, and of course Dark Lo. AR-AB must've picked the right artists to rock with because he talks about already having offers coming at him for his label. In this interview, each artist talks about where they're from and how they each got their names.
Dark Lo and AR-AB speak about their upcoming joint project "Goon & A Crook" being ready to drop very soon.
AR-AB has had a lot of beef in the past but he's been trying to stay beef free in 2018. In this interview AB talks about rappers recently beefing with him over the internet and says "he doesn't beef with rappers". AR-AB also gives out a lot of game and discusses ways that independent artists should invest their money in themselves to blow.
Checkout part 1 of this interview/blog below NOW and make sure you checkout part 2 of this interview/blog where AR-AB talks about Meek Mill and his current legal situation.
This interview was shot & edited by Rick Dange.
© 2018, RickDange. All rights reserved.